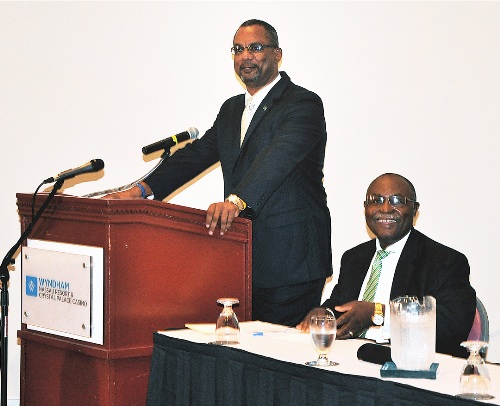 Nassau, Bahamas – The Bahamas National Commission for UNESCO hosted a national consultation meeting on UNESCO Culture Conventions to inform representatives of government and non-government agencies about four conventions that exist to protect aspects of culture and natural heritage. These conventions are the Protection of the World Cultural and Natural Heritage, Protection of the Underwater Cultural Heritage, Safeguarding of the Intangible Cultural Heritage and Protection and Promotion of the Diversity of Cultural Expressions.
Minister of Education, Science and Technology, the Honourable Jerome Fitzgerald officially opened the sessions. He stated that the Government of The Bahamas is firm in its commitment to preserving Bahamian culture. Minister Fitzgerald said that the discussion of the four UNESCO Conventions indicates that we are propelling forward on many levels. "It is hoped that this meeting will result in the investigation and implementation of needed action in the areas of cultural preservation, and cultural education especially in relation to our cultural expressions and intangible heritage," said the Minister.
Ms. Humalchuli Gurung, Cultural Programme Specialist, at UNESCO, Kingston Cluster Office for the Caribbean, made presentations on the four conventions. Gurung stated that heritage is our legacy from the past, what we live with today and what we pass on to future generations. She also explained that World Heritage sites belong to all the peoples of the world irrespective of the territory. To qualify as a World Heritage site, a place must have outstanding universal value. Ms. Gurung stated that to date, there are 981 properties on the World Heritage list with 759 classified as cultural properties, 193 as natural properties and 29 as mixed properties existing in 160 States Parties.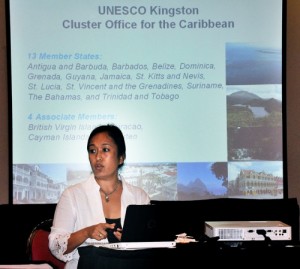 Gurung said her role was to sensitize The Bahamas government about the importance of signing on to the conventions. She pointed out that The Bahamas was the only country in the southern Caribbean region, which was not ratified on the conventions. She noted that there were benefits including culture and tourism promotion, automatic international cooperation, assistance with damage from natural disasters, research exchange and access to international funding and support.
Dr. Michael Pateman, Senior Archeologist at the Antiquities, Monuments and Museums Cooperation gave a presentation on the status of the cultural and natural heritage sites of The Bahamas. He made several recommendations, which were to establish a World Heritage Convention Committee, facilitate public education and awareness, sign the 1972 Convention and apply to the World Heritage Committee of UNESCO for assistance to ensure that Bahamian sites are properly inscribed on the convention.