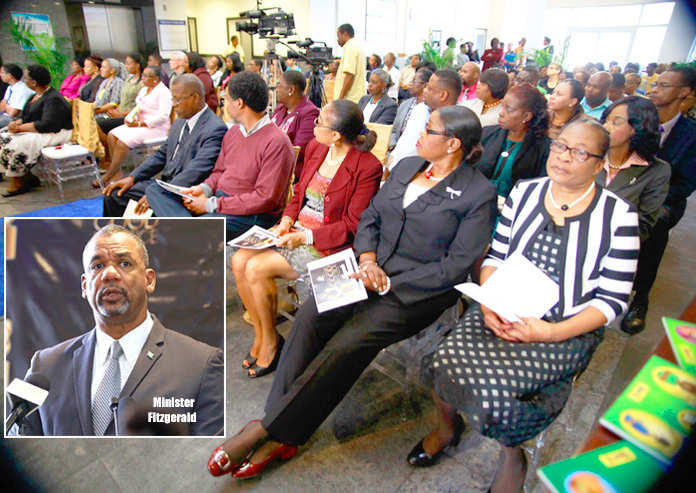 NASSAU, The Bahamas – Educational institutions and civil society organizations that promote primary and secondary education are invited to submit their good practices for a new Government initiative.
The Ministry of Education Science and Technology, today, officially launched the National Education Good Practice Awards, an award that promotes excellence in education.
The Awards will take place in 2017 is patterned after the Commonwealth Good Practice Awards and intended to promote and celebrate educators and education stakeholders who demonstrate best practices.
During a ceremony in the foyer of the Ministry's headquarters, the Hon. Jerome Fitzgerald, Minister of Education, Science and Technology said, the NEGP awards will have a "multifunctional" purpose that will not only highlight what is taking place in education locally, but will help to prepare educators and stakeholders for submission to the Commonwealth Good Practice Awards in 2018.
"To celebrate the contributions of Bahamian educators, the awards will be named in honour of pioneers in the field of education. As we would have had the honour of hosting the 19CCEM in 2015; next year, the Government of The Bahamas through the Ministry of Education, Science and Technology (MOEST) will host the 9th International American Meeting of Education Ministers, which will take place here in The Bahamas in February 2017. As a part of the pre-conference events of this meeting, the first National Education Good Practice Awards ceremony take place to coincide with next year's conference," he said.
Among those present at the event was Donella Bodie, Permanent Secretary; Lionel Sands; Director; officials from the MOEST and representatives of various schools. Participants included Government High School Band, students of the Red Cross Centre for the Deaf and Dr. Pandora Johnson who gave an overview of the Commonwealth Good Practice Award programme.
Minister Fitzgerald appealed to schools and organizations that have made a positive impact on primary and secondary students, their teachers or the education system to make submissions of their innovations for the 2017 National Education Good Practice Awards.
"I strongly encourage you to take the time to engage in this process so that your work can be highlighted and recognized and beyond that, your good practice can become a blueprint for other to use to enhance the lives of students, teachers or the system," he said.
Prizes will be given to the three top winners of the awards.
1st place – $10,000 to be invested in the programme, project, policy that wins the top award and $5,000 to be used either for a capacity building activity or for the further development of the team or organization that has worked on the initiative;
2nd place – $$7,000
3rd place – $5,000