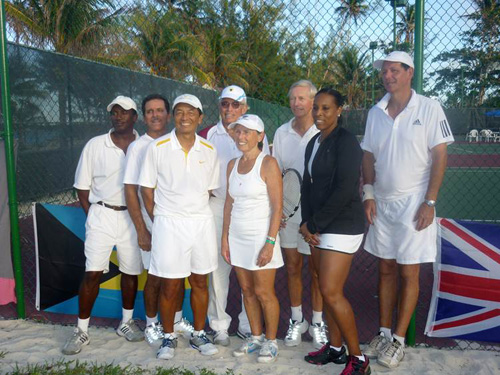 Nassau, New Providence – After day one of the five day Bahamas International (IC) Doubles week being held at Breezes, The Bahamas team got off to a good start with a 4-1 victory over Barbados. In the opening match Captain John Antonas and Mas Kimball were pushed all the way finally closing out at 10-8 in the final set. The ladies team of Larikah Russell and Sue Kimball then had a fairly comfortable win to go 2 up. However the next men's pair of Neil Mactaggart and Sandy Reid lost an incredibly close match 11-9 in the third set. The mixed team of Kit Spencer and Kim O'Kelly then sealed a victory for The Bahamas with a comfortable 6-1, 6-1 win to go 3-1 up. In the final match John Antonas and Larikah Russell came through with another win finishing 4-1 up for The Bahamas.
In other matches, Canada defeated the International team 5-0 and the USA team had a 4-1 win over Great Britain.
The next match for The Bahamas is against Canada where The Bahamas hopes to continue on its winning ways.
For full details of individual match results visit www.ictennis.net and click on The Bahamas logo there.
VAT PSA 14 from King Of Hearts Media on Vimeo.
PSA 18 from King Of Hearts Media on Vimeo.