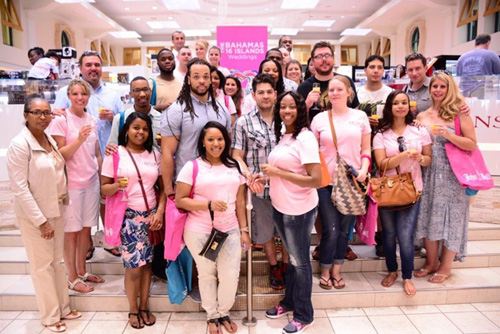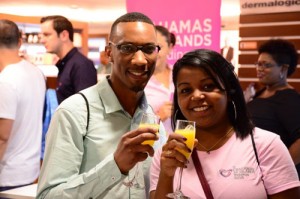 Nassau, Bahamas — The 16 couples who will be tying the knot here in The Bahamas Friday arrived in New Providence this week to put the final touches on their upcoming nuptials.
The couples were lucky to be chosen among 3,000 entrants of the Ministry of Tourism's "16 Islands, 16 Weddings, One Priceless Day" promotion.
The event has a number of sponsors including the Out Island Promotion Board.
Executive Director of the Out Island Promotion Board Kerry Fountain said the promotion has obvious benefits.
"Obviously, the business that we get – the honeymoons, the weddings, the people attending the weddings – obviously that means a lot because it accounts for seven per cent of our business," he said.
"I hope that they will enjoy themselves and I would hope they go home and say, 'I was in Bimini, Eleuthera, Harbour Island, Abaco. And you know what? I had a great time. And guess what? If you want to get married here's where you need to go.' And so that is the take away that I am looking for."
The couples that arrived on Tuesday were treated to a welcome reception at Sapodilla Fine Dining Restaurant.
There, Minister of Tourism Obie Wilchcombe thanked the participants saying that officials were surprised by the number of persons who applied.
"While you have been a part of a promotion, the truth is we are sincere about sharing with you who we are, what we do. We want to share with you all that God has created for us and we want you to feel that you are a part of the family," he said.
"And so having you in The Bahamas to share such an important part of your life is just so significant. And we believe that events such as these will go down in history in helping us to define The Bahamas, particularly in a world where tourism is now becoming the number one industry."
Director General of Tourism Joy Jibrilu also thanked the participants and invited them to return.
"What I would like to do is ask each and every one of you to come back in future years and visit the 16 islands that have been part of this history making initiative," she said.
On Wednesday, the couples got their marriage licenses at the Registrar General's Office, participated in a photo op at Rawson's Square and then it was off to John Bull on Bay Street for some eats and treats.
Najean Lucky and Benjamin Meza-Wilson from Michigan, who will marry on Long Island, said they believe it was destiny that brought them to this point.
"It was kind of unbelievable when we had found out that we had won. Consequentially, we were at a restaurant in Michigan called 'Bahama Breeze' and her phone was ringing and (Director of Romance and Weddings) Freda Malcolm told us that we won," Meza-Wilson said.
The couple was originally planning on getting married in June. However, the bride, who had visited The Bahamas once before on a cruise, decided to enter the contest.
"We feel very fortunate that we were chosen," Meza-Wilson said. "It feels like there is a higher power watching over us."
Darius Smith and Ariana Viega-Barbosa of Indiana will wed on Cat Island.
The couple said they are happy to be a part of this unique opportunity.
"When we found out we were so excited," Viega Barbosa said. "It was really a dream come true. I'm really hoping to have a really sunny day."
"We had so much support just telling people about the events," Smith said. "It's been amazing. The couples are nice. They are all special and unique and I think that's why we are here because we all have great love stories to share."
The priceless wedding experiences are expected to take place on Acklins, Crooked Island, Abaco, Andros, The Berry Islands, Bimini, Cat Island, Eleuthera, Exuma, Harbour Island, Grand Bahama, Inagua, Long Island, Nassau, Paradise Island and San Salvador at 4:00 p.m.
In addition to the BMOT, other partners for the promotion included MasterCard®, 1888mytuxes.com, Mon Cheri, Green Turtle Cay Club, Acklins Island Lodge, Tiamo Resort, Carriearl Boutique Hotel, Resort World Bimini, Pigeon Cay Club, Tranquility On The Bay, Pineapple Fields, Valentines Resort, Sandals Emerald Bay, Inagua Ocean Villas, Gems of Paradise, Riding Rock, Grand Lucayan Resort, British Colonial Hilton Hotel and Atlantis Paradise Island.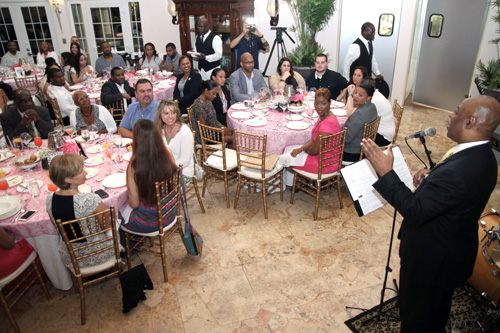 VAT PSA 14 from King Of Hearts Media on Vimeo.
PSA 18 from King Of Hearts Media on Vimeo.