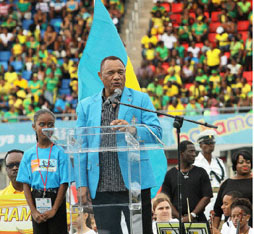 NASSAU, The Bahamas – In a stadium filled with an international audience gathered to cheer their teams, Prime Minister the Rt. Hon. Perry G. Christie officially opened the second staging of the world relays in The Bahamas. After introducing the niece of the late Thomas A. Robinson and thanking IAAF President, Mr. Lamine Diack for affording the country a second opportunity to host the races, Mr. Christie said that he felt 'privileged' to be among the attendees at the event.
"It is indeed a pleasure and privilege to be here today and to be in the midst of all these young and positive people," said Mr. Christie. "Our country is proud to again welcome all of you who are visiting to our shores and we are also proud that the world's fastest sprinter, Mr. Usain Bolt is with us today."
Mr. Christie said the fact that The Bahamas has been chosen to host the event for a second consecutive year is a testament to the world-class status of the Thomas A. Robinson National Stadium and its superb track and field facilities.
The IAAF World Relays is an international annual track and field sporting event that facilitates national teams from around the world to compete in relay races. The first two editions took place in Nassau, Bahamas at the Thomas Robinson Stadium in 2014.
The competition format includes the 4 × 100 metres relay, the 4 × 200 metres relay, the 4 × 400 metres relay, the 4 × 800 metres relay and the 4 × 1500 metres relay. The event has an over one million dollar prize fund.
The stadium staging the games currently has a capacity of 15,000 people, but has the ability to be expanded to hold 30,000 people.