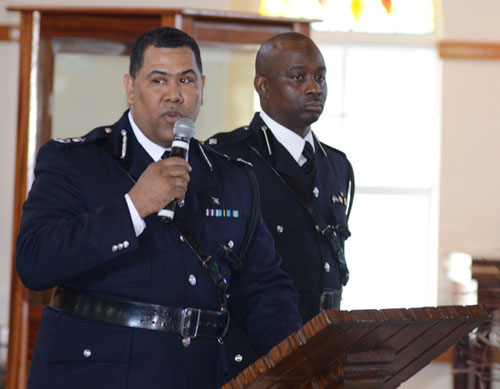 NASSAU, Bahamas — Commissioner of Police Elliston Greenslade said he might not have attained that position if not for deceased former Commissioner of Police Bernard Kenneth Bonamy.
"I had an opportunity to learn from the best. I was able to observe up close and personal a leader who modelled the behaviour and spoke volumes by his actions and good deeds," Commissioner Greenslade said at the Full Military Funeral for Mr. Bonamy, at St. Francis Xavier Cathedral, Friday, March 8, 2013.
The Commissioner said he believes that he speaks for former commissioners and a number of other senior colleagues whose careers were positively influenced by Mr. Bonamy, "a commissioner who believed in education and the need for succession planning".
"All members of the Royal Bahamas Police Force owe a significant debt of gratitude to this protector of the people and must forever cherish his memory and the positive contributions he has made to nation building. He spent the greater part of his life doing what he loved best and he was outstanding in his chosen profession."
Commissioner Greenslade explained that those attending the funeral service have come from all walks of life and from places near and far to "honour an outstanding son of the soil".
"We have come out of an abundance of respect and gratitude for a life of selfless sacrifices on behalf of the people of The Commonwealth of The Bahamas.
"We have come because we remember well the significant contributions of this nation builder who without trepidation confronted the evils that plagued our nation in the mid 80s and through the 90s."
The Commissioner said Mr. Bonamy served during a most difficult time in the history of the country.
"It was a time when drug traffickers peddled their poison and influence with perceived impunity. This courageous young commissioner dared to stand and he never flinched despite the dangers to himself and his family. He was true to his oath of office and his head was never bowed.
"He made it clear that he was not for sale and that he was not fixated on being popular. He had a job to do and he intended to do it whatever the cost."
Commissioner Greenslade added, "Anyone who knew Mr. Bonamy understood exactly where he stood on all issues. He stood on principles and he never vacillated. He was truly an authentic leader who resisted any temptation to submit to pluralism to the detriment of his traditional beliefs and values."
Prime Minister the Rt. Hon. Perry G. Christie, the top brass of the country's armed forces, Members of Cabinet and Members of Parliament attended the Full Military Funeral for Mr. Bonamy who passed away at the age of 67 on February 22, 2013.
Governor General His Excellency Sir Arthur Foulkes and Lady Foulkes; former Governors General the Hon. Arthur Hanna and Sir Orville Turnquest; and senior government officials were also in attendance.