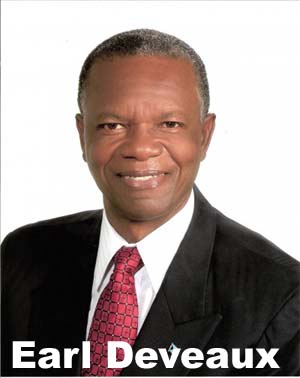 <<< Earl Deveaux, Minister with responsibility for the MET office.
Nassau, Bahamas — Before Bahamas Press continues our exposé on matters in the Bahamas Meteorological Department we would like to invite the Minister, The Permanent Secretary, the Director and all the leadership at the Bahamas MET office to answer the following questions to this HIGH COURT OF PUBLIC OPINION.
The questions are specifically selected to examine the matters at hand.
WHY HAS THE GOVERNMENT NOT REPLACED THE WEATHER STATION THAT WAS CLOSED BY THE CONTAINER PORT IN DECEMBER?
HAS THERE BEEN AN INVESTIGATION INTO THE STRENGTH OF THE TORNADO AND WHAT CAUSED IT? IF NOT, THEN WHY HASN'T THIS HAPPENED?
WHY IS THERE – ACCORDING TO SOME METEOROLOGISTS WHO WE SPOKE TO – NO CRITERIA FOR A TORNADO WARNING, BEFORE OR EVEN NOW?
ALSO WHY IS THERE – ACCORDING TO SOME METEOROLOGISTS WHO WE SPOKE TO – NO CRITERIA FOR A SEVERE THUNDERSTORM WARNING IN THE BAHAMAS LIKE ALMOST EVERY OTHER COUNTRY IN THE REGION INCLUDING THE UNITED STATES?
WE UNDERSTAND THAT THE RADAR ONLY COVERS AN AREA OF 150 MILES, WHICH WOULD MEAN THAT IT ONLY COVERS GRAND BAHAMA AT ITS EXTREME NORTHERN RANGE AND GREAT EXUMA TO THE SOUTH. AND IT IN FACT DOES NOT COVER THE ENTIRE BAHAMAS. CAN THE DEPARTMENT EXPLAIN THIS?
WE ARE ALSO MADE TO UNDERSTAND THAT THE RADAR CURRENTLY USED BY THE MET DEPARTMENT HAS NOT BEEN CALIBRATED IN FIVE YEARS, EVEN THOUGH IT SHOULD BE DONE EVERY YEAR. WHY IS THIS THE CASE?
WE ALSO UNDERSTAND THAT THE ALERT SYSTEM ON THE RADAR FOR HAIL, STRONG WINDS (WHICH WOULD INCLUDE TORNADOES), FLOODING AND HEAVY RAINFALL DOES NOT WORK. WHY?
WE ALSO UNDERSTAND THAT THE AUTOMATIC STATIONS THROUGHOUT THE BAHAMAS ARE CONSTANTLY BREAKING DOWN AND ARE VERY COSTLY. WOULD IT NOT BE CHEAPER TO GO BACK TO MANNED OBSERVATION STATIONS?
Bahamas Press welcomes any or all persons mentioned above to please submit answers to these questions. We shall reveal to our readers our further concerns in this department and shall rule upon concluding this exercise. We invite you to join us.