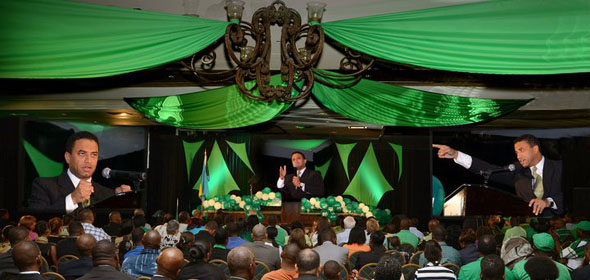 Freeport, Grand Bahama — We wonder who, and we say it again "WHO", is back checking the men and women now being offered as candidates in the Green Party?
On Saturday, the Green Party was all dressed in their fine St. Patrick's Day colours. And though magnificently attired, a few of the candidates we are assured have already brought deep concerns to a foreign government. If the Cables are correct, communications between the Bahamas and that 'Stately Place' are already written.
While all the candidates presented looked angelic, Bahamas Press could not help but notice one in particular, who has graced the stage and has passed through the Candidates Committee of the 'Green People Dem'.
The former Free National Government supporter turned candidate for the Green Party, is a close, and we mean close business associate of the former MP for West End and Bimini, David Wallace.
That same candidate of the Green Party and former FNM general shares an office with the former MP and is said to be actively engaged in contractual works with Wallace.
Now get this, we will not call any name today, but we point the Candidates Committee of the 'Green People Dem' to an Anglican Church call St. Catherine. There the Green Party, the Leadership of the Anglican Church and the People of the Bahamas will find a very interesting story about that same GREEN PARTY CANDIDATE. For now we say no more, but we will deliver some and we keep some.
Bahamas Press calls on the Archdeacon of the Anglican Church with responsibility for the Northern Bahamas, to quickly deliver an edictal order the leadership of 'Green People Dem'; powerfully warning them to BE AWARE of the character in their midst!
We deliver some and we keep some. Stay Tuned!