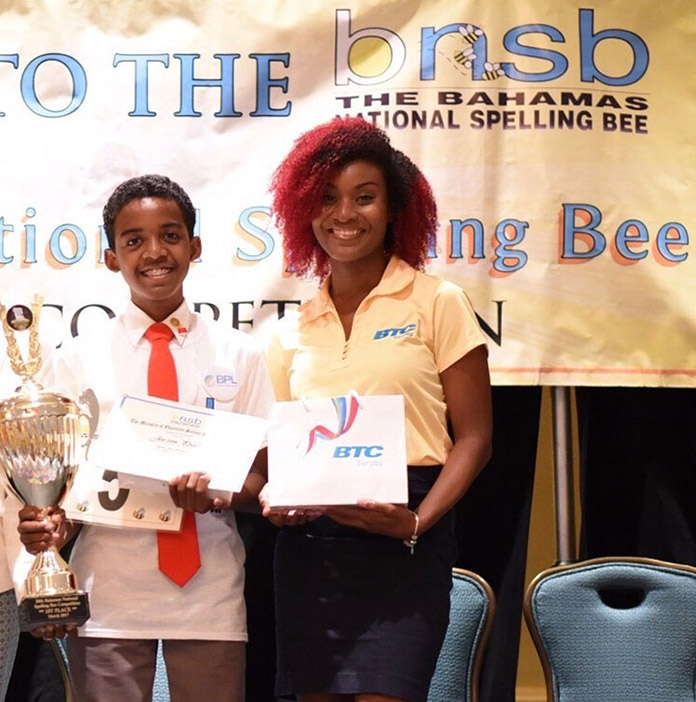 By Oswald Brown
WASHINGTON, D.C. — Bahamas National Spelling Bee Champion Jee'von Pratt is scheduled to arrive in Washington, D.C. on Sunday, May 28, to compete in the 90th annual Scripps National Spelling Bee at the Gaylord National Resort & Convention Center hotel in National Harbor in Oxon Hill, Maryland, just outside Washington D.C., May 28-June 3.
A 12-year-old 7th Grade Student at St. Augustine's College in Nassau, Jee'von is Speller No. 271 among the 291 spellers participating in this year's competition. Although most of the participants are from the United States, in addition to The Bahamas, other champion spellers in this year's competition are from American Samoa, Guam, Puerto Rico, U.S. Virgin Islands, and Department of Defense Schools in Europe, Canada, China, Ghana, Jamaica, Japan, New Zealand and South Korea.
Among the participants from across the United States is five-year-old Edith Fuller, who became the youngest competitor to advance to the Scripps National Spelling Bee when she beat more than 50 children ages 5 to 14 to win the 2017 Scripps Green Country Regional Spelling Bee in Tulsa, Oklahoma, on March 5.
According to information on Scripps National Spelling Bee website, "Spelling was one of Jee'von's favorite subjects in primary school, and he has been participating in spelling bees since 2nd grade. Jee'von has many interests, including literature, science, French and music. He enjoys watching his favorite television program, Steven Universe. Jee'von loves to build things and is very interested in robotic engineering. He loves music and plays the piano for the children's choir at his church. One day he would like to go to France and see the Eiffel Tower."
Jee'von became The Bahamas' 2017 spelling champion after 17 rounds and four hours of competition in the finals of the Bahamas National Spelling Bee on Sunday, March 19, in the Crown Ballroom of the Atlantis Resort on Paradise Island.
The Bahamas Ministry of Education and the Nassau Guardian newspaper are the principal sponsors of the Bahamas National Spelling Bee, which has been sending a champion to compete in the Scripps Bee since 1998.
Back in April, the organizers of the Scripps National Spelling Bee announced a set of "rules changes aimed at creating an effective tie-breaker" in an effort "to make it less likely that the 2017 Scripps National Spelling Bee will have co-champions for the fourth year in a row."
"Contestants still on stage after the first day of the bee will be given a written test of 12 spelling words and 12 vocabulary items. If after 25 rounds involving three or fewer spellers a champion hasn't won, the results of the written test will be used to determine the winner," Bee officials announced.
Officials also that another change "will have spellers handwrite their preliminary classroom written spelling test, which will then be hand-graded. That was most recently the practice in the 2011 bee. In 2015 and last year, the preliminary test was recorded on Scantron test forms."
The preliminary test, known as Round 1, is used to limit the number of spellers on stage for the final rounds shown nationwide on a live, prime-time broadcast.
The remaining rounds of the Bee are as follows:
ROUND TWO: Wednesday, May 31, 8:00 a.m. – 12:15 p.m. live on ESPN3
ROUND THREE: Wednesday, May 31, 1:15 p.m. – 6:00 p.m. live on ESPN3
ANNOUCEMENT OF FINALISTS: Wednesday, May 31 at approximately 6:00 p.m. live on ESPN3
FINALS: Thursday, June 1, 10:00 a.m. – about 2:00 p.m. live on ESPN2
FINALS (CONTINUED): June 1, 8:30 p.m. – 10:00 p.m. live on ESPN
The winner of the Scripps National Spelling Bee receives a $40,000 cash prize and Scripps National Spelling Bee engraved trophy; a $2,500 U.S. savings bond and a complete reference library, from Merriam-Webster; $400 of reference works including a 1768 Encyclopædia Britannica Replica Set Deluxe Edition and a three-year membership to Britannica Online Premium, from Encyclopaedia Britannica; a trip to New York City for the Champion to appear on LIVE with Kelly and Ryan, which airs weekday mornings in national syndication; a trip to Hollywood for the Champion to appear on ABC's Jimmy Kimmel Live, which airs weeknights at 11:35|10:35c (pending availability).