Making the Bahamas Beautiful!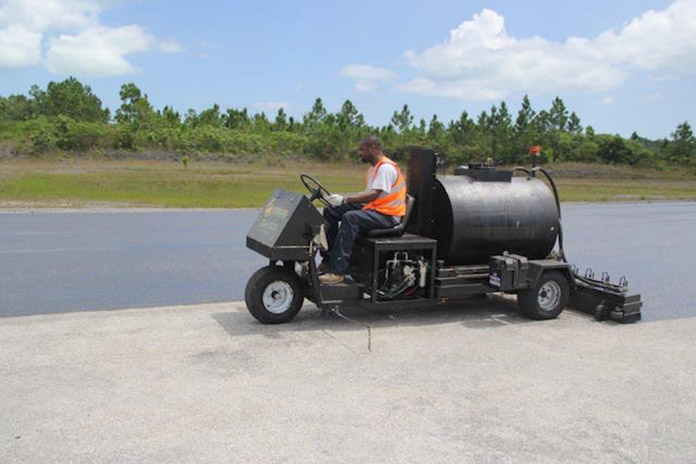 Now that Caribbean Pavement Solutions (CPS) has introduced its product Rejuvenate to airports and roadways across the nation, the government and many private business are now seeing the benefits of the product.
Rejuvenate penetrates sand sealed pavement and reverses the aging process. Since the product release in 2014 in the Bahamas, it has ushered in a new era for preventative maintenance of roads and airports.
The Rock Sound, Eleuthera, and Bimini airports were the first airports in the country to have the asphalt on their runways, taxiways, and aprons revitalised, sealed and protected.
Cherokee Aviation, recently contracted Airport Maintenance Services, and Caribbean Pavement Solutions, both subsidiaries of Bahamas Striping Group of Companies, to apply Rejuvenate to the aprons at their fixed based facility.
Dr. Allen Albury, Managing Director of Bahamas Striping Group of Companies, indicated that the introduction of the pavement rejuvenation product began three years ago.
He added, "It was a long process because we had to ensure that it passed the technical requirements from The Ministry of Works and Civil Aviation. Essentially, it is not just your typical sealer. It penetrates the asphalt surface and it becomes an integral part of the surface, and basically stops cracks from forming."
Dr. Albury stated that the company is excited to be carrying this product exclusively in The Bahamas, but as well as the Caribbean, and the work carried out at Cherokee Aviation will serve as a tremendous benefit because the lifespan of the apron will last an additional five to seven years.
Rejuvenate is the linchpin of ongoing negotiations with the government since 2013, as the company has proposed to use the asphalt sealer at ten airports throughout the country, as well as on road networks throughout the Family Islands.
Dr. Albury indicated that this product has the potential to save the government millions in the long haul.
Report by Kristen Jones
The Calabash Group