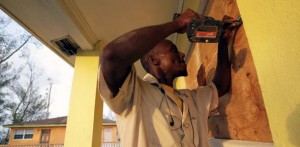 The Associated Press
Date: Tue. Aug. 23 2011 8:49 PM ET
Tourists in the Turks and Caicos Islands retreated to their hotels and residents living on the coast were urged to seek higher ground Tuesday as Hurricane Irene neared the the British territory.
The government moved the elderly and sick to shelters and hospitals, and officials said some power had been knocked out and light poles were being toppled.
"You started to see the hurricane shutters go up. People are not taking any chances," Horatio Tuitt, a disaster management agency manager, said in a phone interview.
Irene was forecast to pass over or near the Turks and Caicos Islands and the southeastern Bahamas by Tuesday night and be near the central Bahamas early Wednesday. Forecasters said it's possible Irene will make landfall over the North Carolina coast Saturday, then move to the north near the Chesapeake Bay.
The Category 1 hurricane was about 50 miles (80 kilometres) west-southwest of Grand Turk island Tuesday evening, with maximum winds of 90 mph (150 kph). Irene was moving toward the west-northwest near 9 mph (15 kph). The U.S. National Hurricane Center said it should pass near or over the Turks and Caicos islands during the next several hours and the southeastern and central Bahamas later tonight and Wednesday.
"We're waiting to see what the storm is going to throw at us," Tuitt said in the Turks and Caicos. "If the storm stays on its current track, we should be back in business tomorrow."
At the Comfort Suites Resort in Providenciales, Gary Anderson and his wife, both of Delaware, said they were preparing to experience their first hurricane.
Anderson said he anticipated chaos after two days of snorkeling and other activities.
"Don't know how long it's going to last, don't know what the 100 mile per hour winds are like, but we'll get through it," he said.
As the hurricane approached, two families called an emergency hotline asking to be rescued, said Emily Malcolm, district commissioner for South Caicos island.
One family's roof was being torn off, while the other family was scared and wanted to move to a more secure place, she said.
The government assured people it has enough emergency supplies available, and that a Royal Navy ship is on standby in Curacao.
"We are already experiencing the first effects of the storm on the island, and we can expect the conditions to worsen throughout the day," said Acting Gov. Martin Stanley.
In the Bahamas, the military expected to deploy small teams to Acklins, Cat Island, Eleuthera and Abaco, said Prime Minister Hubert Ingraham.
He said if Irene strengthens to a Category 3 hurricane, it will damage roofs and weak structures. He urged islanders to prepare supplies and pick up debris that whipping winds could turn into dangerous projectiles.
"We cannot replace life. Hence my urgent and repeated appeals for the observance of safety measures," he said.
The Abaco Beach Resort had enough space for yachts to berth because most boat owners sailed to the United States ahead of Irene, according to marina employee Carolyn Smith.
"Right now, the sun is shining so bright. But we know in the next 70 hours it will all change," Smith said from the 198-slip marina in Abaco, about 165 miles (266 kilometres) off the Florida coast.
Irene was still lashing the northern coasts of Haiti and the Dominican Republic, where crews have begun cleaning up debris and the government warned of flooding. Officials said more than 1,000 people were evacuated.
Cornelio Taveras, mayor of the Dominican town of Boba, warned people to stay in their homes.
"It is very dangerous because we are between two rivers that are growing," he said.
In neighbouring Haiti, 500 people were evacuated from a coastal town amid fears of flooding, while 36 prisoners were relocated to a more secure location, said Marie Alta Jean-Baptiste, director of Haiti's Civil Protection Agency.
In Puerto Rico, a 62-year-old woman died on Tuesday after she tried to cross a swollen river in her car, police said.
In the United States, residents from Florida to the Carolinas stocked up on supplies and readied for the worst from Irene, the first hurricane to threaten the U.S. in three years
Federal officials warned the storm could flood streets and knock down power lines as far north as New England.
Federal Emergency Management Agency administrator Craig Fugate urged people not to become complacent, even though the forecast is still uncertain and the storm may be days from hitting the U.S.
"We need to remind people, hurricanes are not just a Southern thing. This could be the Mid-Atlantic and the northeast coast," Fugate said. "We've got a lot of time for people to get ready, but we don't have forever."