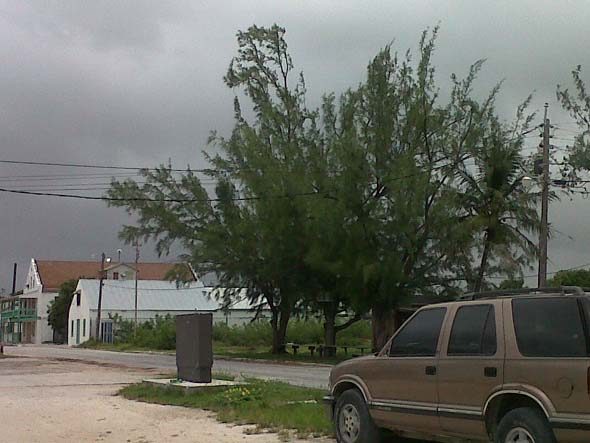 Inagua, Bahamas — LIVE PHOTOS HAPPENING RIGHT NOW in INAGUA: Deteriorating conditions in the Southern Bahamas are presented in these pictures this afternoon, as a 100mph catastrophic category 2 hurricane Irene moves onto land and over warmer waters in the Bahamas; leaving the potential to intensify.
Sources on the Island tell us dark clouds are fast approaching the community, with rains already beginning. We are told winds have also picked up as the small community face the brunt of the weather system.
Teams on Crooked Island, Acklins and Long Cay are all reporting similar type conditions.
Just this morning before his Cabinet Meeting Prime Minister Rt. Hon. Hubert Ingraham assured family Island residents, "The Royal Bahamas Defence Force is on full alert.  The HMBS Nassau departs today at noon for the Cay Sal Bank and will remain in that area until the storm has passed.  The vessel carries a ten man "impact team" and hurricane and emergency relief supplies provided by NEMA."
The PM classified Hurricane Irene as  a category 2 weather system that is, "…Big and dangerous storm and can be expected to cause tremendous damage to trees and vegetation.  If the storm strengthens as expected, damage to roofs and to weak structures can be expected."
He called on the Church for its prayers asking members of the clergy around the country to pray for the safety of the people of the Bahamas.
Today marks the 19th anniversary of the landfall of Hurricane Andrew back in 1992.