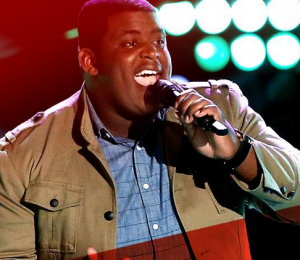 USA — Blaze Johnson sparked a fierce battle between Adam Levine and Blake Shelton on Tuesday's part two of "The Voice" season 8 premiere. Watch below!
The Bahamian-born singer got Levine to turn around first shortly after he started singing "How To Save A Life" by The Fray. Shelton later followed, possibly just to piss Levine off, as the two stars had been feuding all episode with Levine trying to make a comeback after he failed to get any contestants on his team on Monday's premiere.
Since Pharrell and Christina Aguilera didn't hit their buttons, the panel's commentary was really just a showdown between Levine and Shelton as they competed to get Johnson to choose one of them to be his coach. Levine tried to sweet-talk the contestant by compliment his unique name, while Shelton praised Johnson's high note, all the while the pair traded barbs with each other.
Levine went on to acknowledge that the big-boned Johnson and the lead singer of The Fray "could not be more different" in looks, which found to be a good thing. "You don't fit the mold. And god bless you. That's why I want you on my team," he told the singer. "Because you think exist outside the box. I think you're astounding." That sealed the deal, and Johnson selected Levine, who tweeted during the broadcast, "Anytime I beat Blake at anything, I'm happy." Check out the audition below, and tell us what you think of Shelton and Levine's digs against each other!