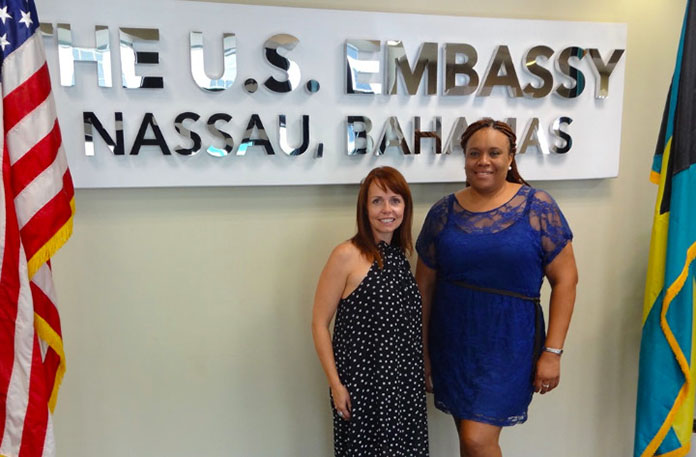 Nassau, Bahamas – Ms. Rayette McDonald, an elementary school teacher and youth mentor, has been selected to participate in the International Visitor Leadership Program (IVLP) entitled, "Advancing and Sustaining Civic Engagement" which will take place September 11-29th in the United States. On August 18, Ms. McDonald visited the U.S. Embassy and met with Acting Deputy Chief of Mission and Public Affairs Officer Penny Rechkemmer to discuss her participation in the program.
The IVLP is a prestigious worldwide program, fully funded by the U.S. Department of State and provides rising professionals in all fields the opportunity to travel to the United States to network with their professional counterparts, as well as learn more about the United States and its policies. This three-week project will examine U.S. and international initiatives to promote civic engagement; explore the legislative framework and administrative organization necessary to support civic engagement; observe organizations that monitor, influence, and advocate for civic engagement at the local, state, national, and international levels in the United States; and provide insight into how the United States engages youth in civic participation.
The itinerary includes Washington, DC; Iowa City, Iowa, Salt Lake City, Utah; and New Orleans, Louisiana. Ms. McDonald will be among a group of twenty-two professionals from around the world selected to participate in the program that will explore the American experience of expanding equal opportunities through political and social engagement. It will survey key movements such as women's and civil right and immigrant rights. Participants will also be introduced to a wide range of advocacy organizations and be able to explore the methods used to develop their missions through outreach, marketing, social media, technology, training and volunteer recruitment.