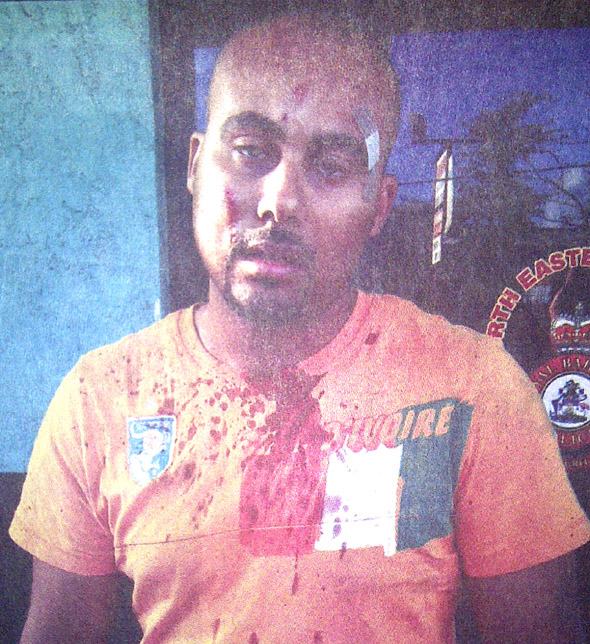 The Government has lost the war on Crime
Nassau, Bahamas –Unable to protect citizens and clearly allowing bandits and thieves to run wild in the society, one must conclude that the government of the day has lost the war on crime while the nation is held hostage.
This past Saturday, a journalist from the Tribune was the latest victim of crime. According to the morning daily, its senior reporter, Chester Robards, had to run for his life as thugs at the intersection of Village and Parkgate Roads hit him with a blunt object and the next thing he knew he was covered in blood.
"I was coming home, it was about 4am. I stopped at the traffic light and the next thing I remember was getting smashed in my head," Robards said.
"It felt like a rock but they said it was a gun. I got hit a couple more times from someone standing outside the driver's side door, then someone opened the passenger door, came in and started hitting me from the other side."
According to the victim, bandits took his watch, wallet, laptop and car.
"I don't remember much, I was pretty delirious after getting hit. I just started running through the corner and they followed me," he added.
Robards said he grabbed his IPOD and ran, but the culprits followed him.
"They drove after me in my car and started shouting that they would shoot me so I gave them the Ipod."
Now imagine that! Bandits on New Providence beat the hell out of a victim, order them out of their own car and then threaten to kill them if they don't hand over an IPOD after chasing the victim with his own car. Boy, this town GONE!
And where are the police? Where are the saturation patrols? Why 919 still taking forever – after five years – to get a response!
You would remember this is the same area where a Chinese man met his death over a cell phone.
Bahamas Press is calling on the International media to take note and bring pressure on this WUTLESS DAMNABLE Government who has allowed criminal to ax, maim, threaten, botch, wound and kill citizens in this country and get away with it.
Every citizen in the Bahamas should be disgusted by this attack and call for the heads of the culprits!
We say AIM FOR THE HEAD! HUNT THOSE BANDITS DOWN! LET THEN TASTE THEIR OWN BLOOD and bury them suckers deep in the damn dig up roads!
We report, yinner decide!