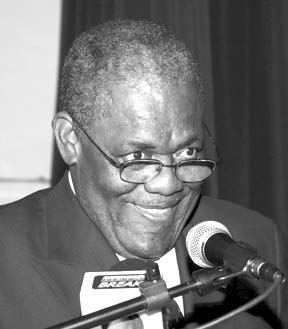 < Prime Minister Hubert Ingraham has now launched a heated row against the world's largest international rating agency Standards & Poor's.
Click to Listen to Love97FM Report of Ingraham's attack at S&P
Nassau, Bahamas: Prime Minster Rt. Hon. Hubert Ingraham lost his cool again this time at the 2009 Bahamas Outlook Summit held at the Whydham Nassau Resorts on Cable Beach Thursday morning.
The Prime Minister's comments came during a question and answer period following his remarks.
Standards & Poor's is an international rating agency where investors from around the world receive reports on countries. The agency rated the Bahamas in 2007 as having an A- grade and praised the Christie government for its fiscal management of the Bahamas.
However with Ingraham's reckless management of the Bahamian economy, with record losses projected in every sector of the economy and reduced governmment revenues projected for the fiscal year, the S&P's December report highlighted the Ingraham's government's management of the economy to be the reason for its terrible report on the Bahamas. The report also higlighted Ingraham's STOP, CANCELLED AND REVIEW POLICY of capital projects and investments airmarked for the country as what assisted in the results in the downturn of the local economy.
Well, Ingraham has not taken too kind to this FACT and therefore fired his shot back to S&P once again for their statement. Bahamas Press agrees with S&P's report on the Bahamas as we too have said repeatedly on this BLOG that "HUBERT INGRAHAM HAS DONE THIS TO THE BAHAMIAN PEOPLE!" But as we all know in The Bahamas, the response of the Bahamian MUGABE was inevitable. Yes, the truth hurts!