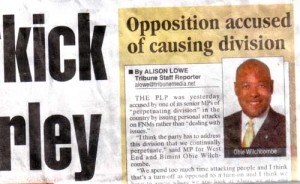 Bahamas Press is aware that members of the Progressive Liberal Party are foaming over the departure of Kenyatta Gibson, and well they should be. But this post will tell of a greater reason why members of the opposition should be upset.
Isn't it amazing to see how every time the WUTLESS 'TOILET PAPER' reports that some high-ranking PLP has spoken to them, the MP for West End and Bimini has an article nearby? And you know, looking at this trend, this is one reason why ordinary citizens in this country believes that the PLP will not get its act together by 2012.
Obiediah "SNITCH" Wilchcombe was the very MP in the PLP who told all PLPs to BOYCOTT the "TOILET PAPER' in 2007. BUT LOW AND BEHOLD every time leak on the PLP is published in the 'TOILET PAPER', the "DOCKEY GONE SNITCH" is giving some commentary to the paper, firing shots at members of his own party. Now, how is it PLPs do not find that strange, nor do they foam at the mouth when it happens is just simply beyond us.
HOW THEN IN THE HELL CAN PLPs WANT TO ATTACK KENYATTA GIBSON WHO LEFT THE PARTY FROM LAST YEAR, WHILST OBIE WILCHCOMBE – THE DONKEY GONE SNITCH – is all over the place talking the party's business to the "Toilet Paper" WUTLESS Tribune!
WILCHCOMBE the "DOCKEY GONE SNITCH" has a radio agreement with the 'old maid' of Shirley Street and Bahamas Press can prove it. Wilchcombe issued a radio licence as minister with responsibility for broadcasting to himself – Hubert should look into this. That radio station is Y98.7FM, which is managed by the OLD MAID's Radio Group.
The next time PLPs are wondering what is wrong with their party, all we at Bahamas Press says is this, LOOK AROUND, THE ENEMY IS IN THE CAMP!
"Yinna ga lose come 2012 if yall don't CHANGE ya know?"