BREAKING NEWS >>>>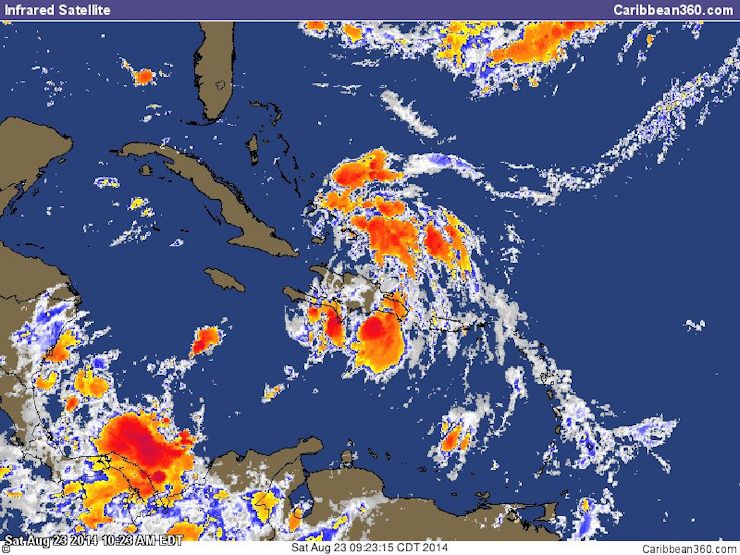 by www.caribbean360.com
NASSAU, Bahamas, Saturday August 23, 2014, CMC – The Bahamas was bracing for heavy rains and thunderstorms as weather officials warn of the possibility of a tropical depression or storm on Saturday or the next 24 hours.
"This system is forecast to move west-northwestward over or near the southeastern Bahamas today, and over or near the central Bahamas on Sunday. Heavy rains and gusty winds are expected to continue over Puerto Rico and Hispaniola today," the Miami-based National Hurricane Center (NHC) said in a bulletin on Saturday.
According to the NHC bulletin, the system is located near 20.1N 70.9W and is moving west-northwest at 6 mph.
The Bahamas Department of Meteorology (BDM) has warned that the heavy rains "will most likely cause extensive flooding in low-lying areas" and advised residents in the Turks & Caicos Islands and the Southeast and Central Bahamas to begin and to complete storm preparations as soon as possible "since Tropical Storm Watches or Warnings could be required with little advance notice".
NHC said that "winds to tropical storm force and heavy rains are expected to spread over the southeastern Bahamas, the Turks and Caicos Islands, and the Central Bahamas through Sunday.
"These rains could cause life-threatening flash floods and mudslides, especially in the mountainous areas of Hispaniola and Puerto Rico,"' the NHC said, adding that an Air Force Reserve Hurricane Hunter aircraft is scheduled to investigate the system later on Saturday.
"Showers and thunderstorms associated with the system are gradually becoming better organized, but the proximity of the system to Hispaniola could limit development tonight. Conditions are expected to become more conducive for development when the disturbance moves near or over the Turks & Caicos Islands and the Southeast Bahamas on Saturday."