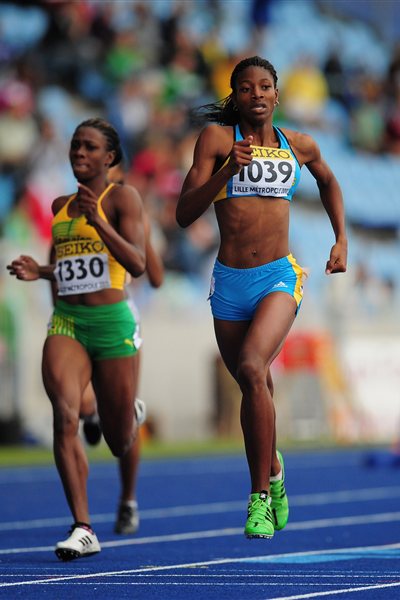 Miller entered the history books when becoming the first woman to win a World Junior and Youth 400 title with a thrilling win in a personal best 51.84.
Despite the swirling wind, the race was a classic and made even more memorable by the devil may care tactic of Canada's Christian Brennan who flew from her blocks and roared down the backstraight.
At the halfway point the 16-year-old held a metre lead ahead of her more fancied opponents for the gold medal but Miller on the final bend and who herself had a fast start, was gathering pace.
She struck early in the home straight to claim The Bahamas first ever title and only the second the Caribbean nation has collected since the Championships began in 1999.
Miller said: "The Canadian's good start didn't bother me. I made the difference in the last 100."
Behind her Brennan was flagging but rarely has such a small figure shown such a big heart as she held on to clinch second place by 0.02 in 52.12 from Jamaica's Olivia James who also set a PB.
With world lead Hall wins USA's first ever boys' 400m gold
Arman Hall admitted before the Championships began that the 400 rival he feared most was the tiny Kenyan Alphas Leken Kishoyian and the final against him lived up to its billing.
The USA had never won a gold medal at previous meets over what is acknowledged as one of their strongest events but Hall put the record straight when lowering his world leading mark to 46.01.
He was quick out of his blocks but so too was Kishoyian as their battle for supremacy started down the backstraight and around the crown of the final bend into the home straight.
Hall coming off it had a half metre advantage but lengthening his stride and gathering more speed he thwarted the bid of last year's Youth Olympic bronze medallist who was running out of steam.
But Kishoyian held on to match the silver medal fellow countryman Julius Kirwa achieved six years ago when holding off the late challenge of Poland's Patryk Dobek who set a PB by 0.69 in 46.58.
"I had a really good start and it was a great race," said Hall, also the world leader over 200m but not contesting that event as he prefers the 400m. "Now after all these races I'm just tired."
Pasztor breaks championship hammer record three times
In the field Bence Pasztor produced a magnificent series of throws to win Hungary's first gold medal at the Championships with a Championship record of 82.60m.
The World leader with 83.92m established his dominance of the competition when landing his first throw out to a distance of 82.13m which shattered the Championship record his fellow Magyar Sandor Palhegyi threw in Marrakech six years ago.
Then in the next round he increased it to 82.47m, followed by "only" 82.01m and two no throws. Then came his massive winner to improve the record for the third time.
Behind him no one matched even his lowest throw with Turkey's Ozkan Baltaci taking silver with a personal best of 78.63m while Ukraine's Serhiy Reheda thanks to his opening effort of 74.06m finished third.
Veale wins Ireland's first ever 5000m Race Walk gold
Kate Veale scored a clinical 5000m Race Walk victory for Ireland with what was effectively a fantastic solo effort to crush the field in a world youth lead and personal best of 21:45.59.
The Emerald Isle in the past has won just a silver medal courtesy of Ann Loughnane in 2003 at the Sherbrooke Championships and Veale topped that performance when crossing the line ahead of China's Yanxue Mao and Nadezhda Leontyeva of Russia who clocked PBs of 22:00.15 and and 22:00.84.
Veale despite the huge gap she held, insisted: "I felt strong during the whole race, but until the last lap I wasn't sure I could be first. I didn't know how far they were behind me."
Peru's world leader Yuli Capcha showed her credentials when leading for the first two kilometres but then faded, and going gradually backwards, failed to finish.
It was just after that distance Veale heel and toed quickly to the front and by three kilometres (13:12.74) had a healthy 10-metre lead ahead of Alina Galchenko and Leontyeva last year's Olympic Youth bronze medallist.
By four kilometres (17:26:34) she had a huge 30-metre lead as her Ukraine and Russian rivals fought a personal battle for the silver medal which unfortunately went wrong for them in the lap before the bell.
Possibly concentrating on their own head-to-head the world No 3. and 4. ranked walkers failed to notice that Yanxue Mao was closing them down and at the bell was a medal contender.
With Veale assured of claiming gold, ending four successive Championships of Russian dominance, the chase for silver saw Galchenko dropped over the final circuit and in a nailbiting finish which went to the wire Mao get the verdict by the narrowest of margins.
Fifth Kenyan 1-2 in 2000m steeplechase and sixth title
Conseslus Kipruto became the sixth Kenyan winner of the 2000m Steeplechase title when keeping his nerve he used his finishing speed down the home straight to thwart the challenge of fellow countryman Gilbert Kiplangat Kirui.
The Kenyan pair – also the fifth duo from their country to achieve a 1-2 in the event – stood head-and-shoulders above their rivals but it was Kipruto who took the gold medal when also lowering his world lead to 5:28.65.
Kirui, who missed his PB by just 0.49 with his time of 5:30.49, had no answer when after challenging coming off the final water jump he couldn't respond at the remaining barrier, where Kipruto spurted away.
Sharing his victory with Kirui, he said: "With my friend Gilbert we were dreaming. We wanted to start fast and run together. It was our tactic. Both of us are happy."
Behind them Uganda's Zacharia Kiprotich claimed the bronze medal when in a spirited last lap he and Morocco's Jaouad Chemlal rid themselves of Great Britain's Zak Seddon who had also been a contender at the bell.
Van Der Merwe in control with 110m hurdles victory
World leader Andries Van Der Merwe ran a perfect race in the last track event of the evening to grab the 110m Hurdles title in a highly competitive race.
Der Merwe, surprisingly beaten earlier in the afternoon by Japan's Takumi Takahata in the semis, bounce back brilliantly to convincingly win the gold medal in a time of 13.41.
The South African rose quickly from his blocks and leading throughout his dash down the home straight his perfect hurdle clearances saw him stifle the threat of main challengers New Zealand's Joshua Hawkins in lane 7 and William Belocian of France inside of him in the fourth lane.
Jamaica's Omar McLeod was also challenging strongly in the outside lane but it was Kiwi Hawkins who captured silver and Belocian bronze as all three set PB's of 13.44, 13.51 and 13.61.
Galle wins France's first gold medal in Triple Jump
Triple jumper Sokhna Galle, with the track action having finished and her teammate Wilhelm Belocian having won the 110 hurdles bronze medal, minutes later captured France's first gold medal of the Championships.
Galle, who moved to third place on the world list after her 13.42m qualifier two days earlier, took the lead in the competition with an even better leap of 13.62m.
It withstood the challenge of her rivals with Jingyu Li making the strongest challenge when throwing 13.57m in the fourth round which won the Chinese World No. 2 the silver medal.
The battle for third place was extremely tight. Spain's Ana Peleteiro clinched it on countback from Victoria Leonova on countback whilst Sweden's Lynn Johnson and Ukraine's Anna Krasutska reached 12.91m for fifth and sixth, again on countback.
Khaddi Sagnia had a night she will wish to forget. The Swede who set a world lead of 13.64m in her qualifier failed to make the final cut.
Grozav scores unexpected High Jump win
Romania's Ligia Grozav, who came into the high jump final with a PB of just 1.80m which didn't even rank her in the World's Top 10, celebrated an exceptional victory.
The 17-year-old ignored the statistics to prove herself the best in the world when scoring a win no one forecast on countback ahead of world No. 1 Iryna Herashchenko with the bar at 1.87m.
It was Grozav's vital first time clearance at 1.85m which was the key to defeating her Ukrainian rival who needed a second attempt before the pair both with their last attempts went clear at 1.87m which matched Herashchenko's world best set in mid June.
But both failed all three leaps when the bar on a windy afternoon was raised to 1.89m leaving Grozav to steal the glory on an afternoon she'll never forget.
"It was a great Championships and it was my first international competition," said Grozav still coming to terms with her magnificent performance.
Jamaica's Chanice Porter also won the bronze medal on countback sharing the same height of 1.82m the world No. 3 getting the verdict from Germany's Laura Voss who improved her PB by two centimetres.
Mendieta the overnight Heptathlon leader
World leader Yusleidys Mendieta was sitting at the head of the heptathlon competition by only 77 points after a keenly contested first day's action.
The Cuban, who achieved PBs in the 100m Hurdles and High Jump, then hit the front after the Shot Put and consolidated her position with another lifetime best in the 200m.
Mendieta's performances saw her amass 3510 points, although Belgium's Marjolein Lindermans had a day to remember after retaining second place throughout.
The Belgian's highlights included having the best clearance in the High Jump whilst she also posted a 200m PB to finish the day with 3433 points.
Mendieta's fellow Cuban Yorgelis Rodriguez, lying 11th after the hurdles, moved upwards to seventh and fourth following the High Jump and shot. Then a 24.76 clocking in the 200m saw her move into third just three points behind Lindemans.
Wilson looks sharp in 800m semi, fellow American Vaughan leads discus qualifiers
Ajee Wilson's superb 800m personal best in her semi-final indicates she may be the girl to beat when the final takes place on Sunday afternoon.
The American fought a terrific battle over the final lap with Great Britain's Jessica Judd who led through 400 in 61.00 to finish in 2:03.17, with Judd another medal candidate, just 0.63 behind.
However the tall Chinese athlete Chunyu Wang also looked extremely strong when again lowering her PB to 2:05.13 whilst in their semi Katie Snowdon of Great Britain and Amy Weissenbach, the USA's world leader, comfortably ran times of 2:05.67 and 2:05.84.
Shelbi Vaughan the World No. 2 headed the qualifiers for tomorrow's Discus Throw final when producing a personal best of 53.78m which easily bettered the 48.50m qualifying standard.
The American was joined by nine other contestants who progressed by right including world leader Rosalia Vazquez of Cuba who lofted her best effort out to 53.78m while the 10th qualifier, Ukraine's Viktoriya Savytska, threw exactly the required distance.
Boys' Triple Jump qualifying
World leader Latario Collie-Minns showed his credentials when with his last effort the Bahamian flew out beyond the automatic qualifying distance for the final of 15.25m.
The teenager who has cleared 16.55m achieved the distance at a venue where 16 years ago the legendary Briton Jonathan Edwards produced the world's longest ever jump of 18.43m, unfortunately assisted by an over the limit wind of 2.4m/s.
The same B qualifying group saw the world's sixth and seventh best performers this year, Maksim Lustin and Sabelo Ndlova, also make the final by right, the Russian doing it with his first attempt of 15.31m while the South African with his second raised his PB by 4cm to 15.51m.
David Martin for the IAAF

email