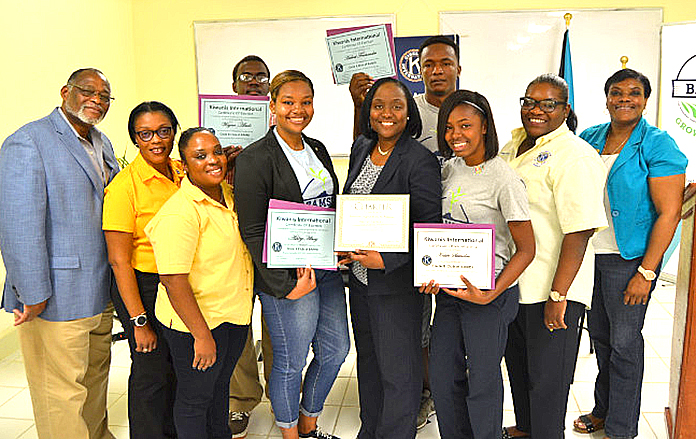 Nassau, Bahamas – FOR BAMSI College, fall semester 2017 will be marked by a number of firsts: it was the largest intake of new students to date, two associate degree programmes – environmental science and agribusiness – were added to the Institute's academic portfolio, and the College became the newest chapter of Circle K International (CKI), the collegiate arm of Kiwanis International.
For the special ceremony, senior members of Kiwanis Bahamas and representatives from sponsoring clubs – Kiwanis Club of Fort Montagu and Kiwanis Club of Fox Hill, East Nassau – flew to Andros on the last Friday of November to present the certificate of charter to the BAMSI club. Dr. Raveenia Roberts-Hanna, Executive Director of the Institute, received the charter, and the officers and members, including student president Ashley Albury, were installed.
The installation and mini-training session equipped the club's members with the tools and information required to have a successful performance during their upcoming fiscal year while holding meaningful club meetings, activities and rendering altruistic service to the local community. The Kiwanis delegation came with a wealth of knowledge to impart and left with enthusiasm for their newest service club and a huge gift of appreciation from the Institute's farm.
For BAMSI's leadership team, encouraging a heart for service and building a connection with surrounding communities is an important component in developing a well-rounded citizenry. Under the direction of Dr. Hanna, BAMSI College has created avenues and formed private/public sector partnerships that help students participate in community-focused activities. As part of Circle K International, BAMSI CKI has the benefit and support of millions of members around the world as they go into the North Andros community, providing help where necessary.