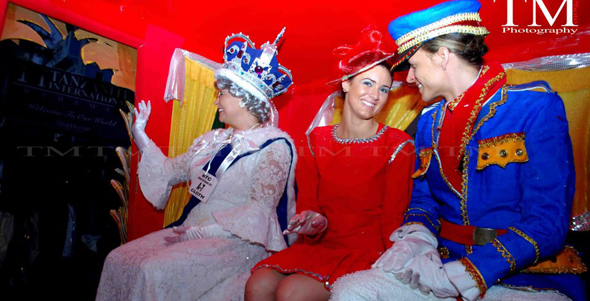 Nassau, Bahamas –Bay Street stood to attention when daughter of fashion mogul Peter Nygard, Bianca Nygard, entered the square as Queen Elizabeth II during the Boxing Day morning parade.
Valley Boys took home top prize in every category.
Many believed the Valley Boys, which shared the same theme as the Shell Saxons Super Stars and Roots – The 60th Diamond Jubilee Celebrations of Queen Elizabeth's reign – simply presented the best display of the historic celebration.
In the A- Category, Valley Boys won with 3,325 points, followed by One Family with 3,025 points. Third were Roots with 2,794 point and then Saxons with 2,749. Music Makers took fifth place with 2,561 points in the parade.
Before the parade, expressing his love for the rhythms and culture of the Bahamas, Peter Nygard said that the time has come for organizers to take Junkanoo to the world. Mr. Nygard shared his comments as he renewed his contributions to the JCNP – the organizing committee which manages the parade.
Bianca Nygard's show stopping performance was breathtaking when she descended from her throne in the City Square and knighted Valley Boys leader, Gus Cooper, before the nation.
Organizers say, "That was a show stopper. Ms Nygard graciously descended and, as our leader knelt before her, with the presence of the Archbishop of Canterbury, bestowed her powers of knighthood on a man so deserving of the great honour. There was nothing like it on Bay Street Boxing Day morning and it was a moment to remember."
The Nygards have put their time and money behind the development of Bahamians this year. Outside of Mr. Nygard's support to Junkanoo and Culture in the Bahamas, he has also contributed huge resources to the development of sports in the country.
"Mr. Nygard has shown his love for the Bahamas and continues to show that he is Bahamian through and through," a Junkanooer said.