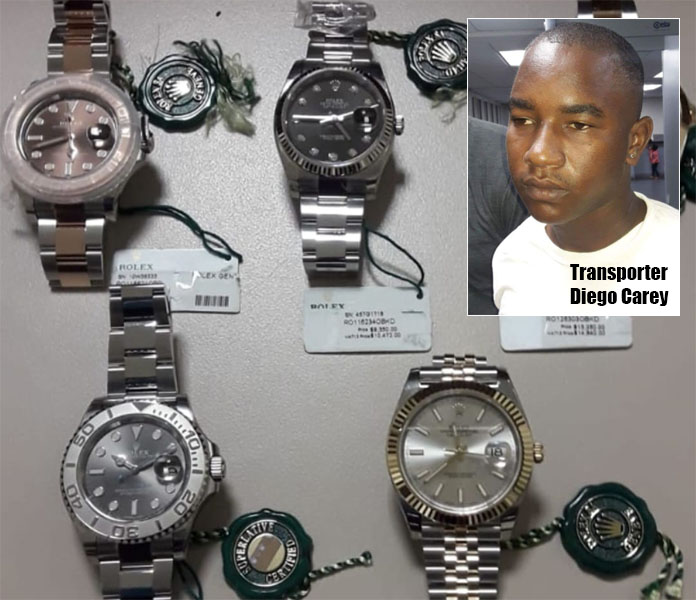 Freeport – Police have made a big break in the John Bull robbery on Grand Bahama and have arrested one 23-year-old Diego Carey of #33 Soldier Road New Providence in connection with that incident.
Now it is believed that Carey was not one of the crossdressing suspects in the robbery, but perhaps was an accomplice who attempted to transport the items into the capital this morning.
We understand sometime around 12am this blessed Tuesday morning when Carey should have been resting for work at a major hotel on Paradise Island, he attempted to board the Mailboat vessel for sail from Freeport into the capital.
When security scanned his baggage they discovered some five of the stolen Rolex "rolly" watches from that recent Lucaya Johnbull robbery. The tags were still on the items. Now this should be an easy case to solve. Who invited the Nassau resident to Grand Bahama? Who was he staying with while in Freeport? Where did he collect the items from? And is the hotel worker apart of a larger criminal network of robbers/transporters? Do the robbery in one town to sell and move the items into another? Much can be uncovered here!
We at BP believes this is a great case to use the INTERCEPTION BILL AKA "DA SPY BILL" to track and trace the steps/ calls of this suspects right here!
Police has taken Carey into custody where he mah is saying "NOT MY GOOD CHILD!" [Woman go sit down!]!
Ahhh well – WHEN WE FAIL TO THANK GOD AND APPRECIATE WHAT WE HAVE – we end up getting nothing in the end.
We report yinner decide!