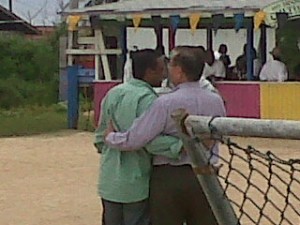 Moores Island, South Abaco — Just this week the FNM and DNA displayed the most nastiest attack on each other in the Parliament to show that they are not getting off on the right foot. But by weekend, both players of the political game were back together on the campaign trail.
The photo of Edison Key and Branville McCartney seen here, was taken at the park on Moores Island, Abaco this afternoon [October 22nd 2011].
Branville McCartney MP attended the Moores Island Festivale with DNA candidate Roscoe Thompson III and a hand full of his new Party supporters.
Also attending was PLP Party Leader Perry G Christie, Deputy Leader Philip Brave Davis, Party Chair Bradley B Roberts.
Former PLP Candidate for South Abaco Gary Sawyer, PLP Candidates for Pineridge Dr Michael Darville, .Greg Moss Marco City,  Arnold Forbes Mount Moriah, Dr Andre Rollins Fort Charlotte and other PLP officials.
For the FNM it was only the area MP Edison Key and Mrs Key. What a poor showing by the incumbent.
It is should be clear from this photo that Key and McCartney had a warm embrace. It confirms that they are long lost friends together on one course, working towards the same goal to trick, fool, bamboozle and rob the Bahamian people once again. Readers must remember how Key and Branville were both on the same FNM ticket at the last election. You gata remember how all those same people following Branville last time were also FNMs including Roscoe Thompson III [The grandson of Sir Durward Knowles].
This week Radio talk show host of Hard Copy Steve Mckinney, a paid DNA sympathizer, suggested that the attack this week in the House of Assembly between South Abaco MP Edison Key and Branville McCartney was a conspiracy of the FNM and the PLP. The idea is Laughable! Clearly that thought is unfounded and a figment of McKinney's imagination. Or let us put it this way, do you think the PLP put them together in this warm embrace? HMmmmmmm!