AG Senator the Hon. Allyson Maynard-Gibson announces new registry at PMH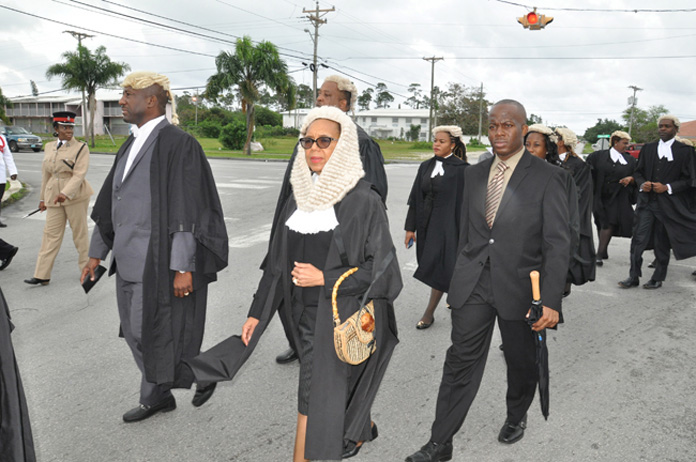 NASSAU, The Bahamas — Mothers of newborn babies will soon be able to register their births "immediately" after delivery at the Princess Margaret Hospital. The new initiative is an effort by the Registrar General's Department (RGD) to curtail fraudulent activity.
On Thursday, June 23, 2016, Senator the Hon. Allyson Maynard-Gibson, Attorney General and Minister of Legal Affairs in her 2016-2017 Budget Contribution to the Senate, advised that efforts are underway to open a births and deaths registry at PMH where mothers can register their child before they are discharged and receive the certificate at the hospital, provided the required documents have been completed.
She said, "The RGD is keenly aware that there is a sector in our community whose births are not registered. As this is a vexing issue that continues to get out of hand, the RGD is partnering with the Hospital Authority to share data collected electronically so as to minimise human intervention and reduce errors in the birth records.
"RGD in an effort to promote efficiencies in death registrations will allow for funeral homes to leave the morgue and register a death without having to leave the hospital. Death certificates can be issued at RGD sub office and lessen the time for release of bodies for burial."
An initiative between the RGD and the Department of Public Health is in progress to capture individuals in New Providence and the Family Islands who have not yet attained the age of three years and whose births have not been registered. The initiative is intended to reduce the number of persons who do not have birth certificates, she said.
Moreover, the Attorney General informed that the Government will reinstate the capacity for Family Island Administrators to issue certified copies of births, deaths and marriage certificates on various islands.
"It is hoped to have similar services on all of the Family Islands soon. As a result of this initiative, residents of Grand Bahama, Abaco, Eleuthera, Cat Island and
San Salvador will no longer have to travel to Nassau to get a certified copy of their births, deaths or marriage certificates, but simply go to the Administrator's Office and request the same," she said.
Furthermore, the RGD is in the process of reviewing all procedures relevant to filing, capturing and recording of documents so that the entire process can be digitally completed within five working days.
She said a review committee has been established, made up of private sector and RGD staff to review the process for automation and to shorten the turn- around time for documents getting back to the agents or individual that filed them.
Highlighting the efforts of the staff of the RGD in the Deeds and Documents Department, the Attorney General noted that the time period for registering documents has been reduced from three months to roughly two weeks. She described this as a "tremendous" feat.