Save the Bays calls for investigation results of "hateful' demonstration at New Year's parade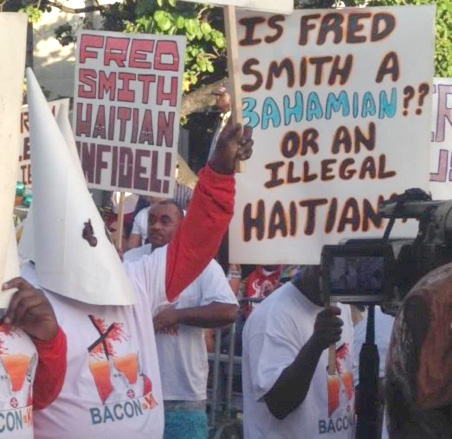 Nassau, Bahamas – The following is a statement by Save the Bahamas:
Save The Bays chairman Fred Smith, QC, has urged the Junkanoo Commission of New Providence to release the results of its promised investigation into the hateful and intimidating display that was allowed to poison this year's New Year's Day parade.
Smith noted that more than a month has gone by, yet no updates on the probe have been forthcoming. He urged the commission and the government as a whole to take the matter very seriously, as it signals of the rise of a dangerous tendency within the national public dialogue.
"While we applaud the commission for launching an investigation, we hope they were not merely paying lip-service to protecting members of the public from threatening and intimidating behavior at what is supposed to be a traditional family event, the centerpiece of our national cultural life," Smith said.
"STB asked officials to get to the bottom of the hostile and xenophobic display, discover who was behind it, and we would like to know the result of those inquiries immediately."
Commission chairman Silbert Ferguson pledged that he would investigate the appearance of an anonymous group donning masks similar to those worn by Klu Klux Klan, saying he had no idea how they had appeared on Bay Street. He said his team would review tapes of the parade and form a plan to prevent such incidents in the future.
The unauthorized demonstration targeted Smith personally, as well as renowned international businessman and conservationist Louis Bacon. Banners read: "Bacon is KKK" beneath an image of a burning cross, "Join the coalition to banish Bacon", "Fred Smith, Haitian infidel", and "Is Fred Smith a Bahamian or an illegal Haitian?"
It was but the latest in a series of malicious attacks on peaceful and law-abiding individuals. On December 5, a similar protest featuring identical banners and costumes, attempted to hijack an event in support of the passage of a Freedom of Information Act, organized by STB.
Controversial fashion designer Peter Nygard went on the record to deny he organized this December protest. He has yet to make any comment on the unseemly New Year's Day display or on a "pro-Nygard" march held in July of last year, in which hostile messages against STB directors and associates were also on display.
On that day, targets included Joseph Darville, a universally respected veteran educator, who served as principal of a Catholic High School in Grand Bahama for 20 years. Newly appointed STB director Diane Phillips was also singled out by the group of aggressive male protesters.
A self-styled "Pro-Nygard" march through Downtown Nassau in July 2014 attacked Mr. Bacon, Fred Smith and Rev. Dr. CB Moss, an esteemed and influential member of the local clergy, as well as a former Senator
"STB believes that if not dealt with promptly and decisively, this ominous new tendency could threaten this country's efforts to chart a course towards a more decent and tolerant future," Smith said.
"These repeated attempts to demonize and strike fear into the hearts of individuals – and particularly those advocating for greater individual rights, government transparency and respect for the rule of law – points to a desire to silence free speech, incite hatred and bring an end to socially constructive community activism in The Bahamas."
Founded just over a year ago, Save The Bays began as a grassroots effort to protect ecologically significant areas of The Bahamas from unregulated development. It has quickly grown into a broad-based coalition calling for comprehensive environmental protections, oil spill legislation and greater transparency in government.
With more than 17,200 followers on Facebook, STB is the fastest growing, most popular non-profit, non-government organization in Bahamas history on social media.The group's petition calling on the government to enact an Environmental Protection Act, a Freedom of Information Act, stop unregulated development and end to oil pollution is climbing in numbers, with around 6,400 signatures so far. To get involved, sign the petition or learn more, visit www.savethebays.bs.