Thousands wait on an interview at Sandals today – yet – a small number of BTC employees staged a sickout!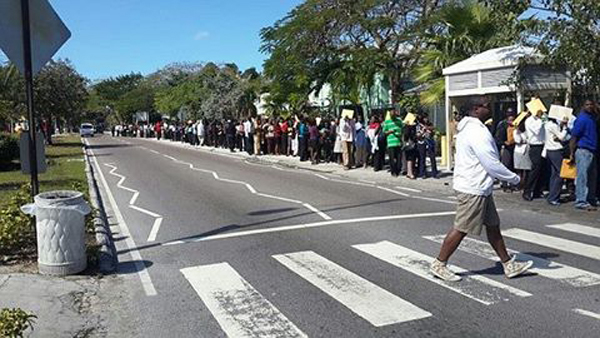 When you have a good job like the people at BTC  – you don't play around with it!
Nassau, Bahamas – Someone must have put a spell on a few workers of  BTC who walked off their good pension-able job today – all, we
believe, handing in fake sick slips.
Now this is incredible because, in the Bahamas today with high unemployment and great job losses in the last 7 years around the world, someone must be behind this trick.
Today Bahamas Press stood outside the walls of Sandals. The company was holding a job fair for new positions.  From a look at this
picture lines began forming before 7am. Young Bahamians with masters  and doctorate degrees braved the chilly winds to get an opportunity
to involve themselves at Sandals.
In contrast, the employees of a global telephone giant like BTC with good high salaries  and great benefits are playing sick and doing shit! What is wrong  with our people!
UNBELIEVABLE!!!
Bahamians at BTC will get no sympathy from the Bahamian people. The  times are rough! You have a job – STAY ON IT!!!!
We report yinner decide!