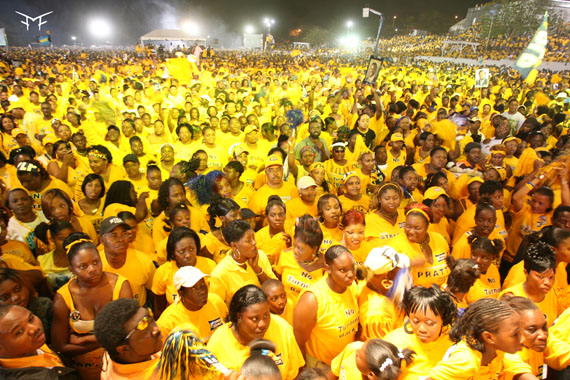 Nassau Bahamas — It is no question in the life of every country, there is a call that redefines a nation, and we at Bahamas Press believe that call is upon us. We BELIEVE that mission to divine purpose is today being guided by a MIGHTY HAND directing our people to look into a different direction and REACH FOR THE GOLD!
WE BELIEVE the time is upon us to invoke new hope that will INSPIRE our people; battered with anger and bitten with pain.
WE BELIEVE the time is upon us to redirect our course and sent sail our tiny island nation on a course of new dreams anchored with EMPOWERMENT!
We BELIEVE the time is now for the country to elect a government, which knows and understands that people are far more important than things. Far more important than road, far more than dredged harbours and special interests.
We BELIEVE the time is now to BELIEVE IN PEOPLE ONCE AGAIN!
We BELIEVE the time for PROGRESS IS UPON US, where NO son or daughter shall be left behind. It is time to march in that GREAT JOURNEY to UPLIFT OUR PEOPLE TO A PLACE OF PROMISE ONCE AGAIN! Rescuing them from pain and conflict inflicted by an OUTGOING FNM government!
We BELIEVE it is time for all of us to ease the pain and offer them an escape from the jaws of poverty and despair. It is time for us to strengthen the weak, lift up the fallen, engage the faithful and encourage the thousands lost in hope! IT IS TIME FOR US TO BELIEVE IN THE BAHAMAS ONCE AGAIN!
With the loud voices of BUTLER, HANNA, PINDLING all ringing in our ears this morning we can hear them all say "LET US BELIEVE IN THE BAHAMAS"!. Bahamas Press in a stoke of EDITORIAL BACKING, unlike the Tribune, publicly call on all passionate citizens to join the Progressive Liberal Party tonight where hundreds will gather at a JOBS and EMPOWERMENT SUMMIT AT WORKERS HOUSE on the Tonique Darling Highway formally Harrold Road….Event starts at 7:00PM….REACH FOR THE GOLD!
WE APPROVE THIS MESSAGE!