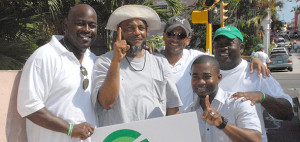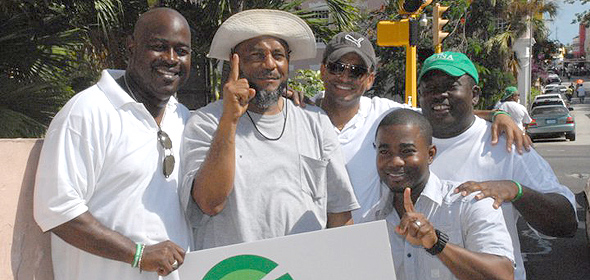 Nassau, Bahamas — Bahamas Press is reporting live this afternoon from the KFC restaurant on Prince Charles Drive, where we can confirm a decision has been made just above us at the DNA headquarters.
BP is reporting former Workers Party leader and political activist, Rodney 'Da Hammer' Moncur, has been rejected by the party of his favourite colour, the DNA!
Operatives in the position to know tell us, Moncur is yet to be informed of the Party's decision and the organization leadership avoiding him like the plague right now.
BP is looking deep into the decision of the DNA and from what we gather, recent public pronouncements by Moncur jeopardized the prospects of his being made a candidate.
We are told recently on a talk show, Moncur discredited the former Governor General, Sir Orville Turnquest, just short of assassinating his character in the public domain. Our source tell us, that pronouncement alone by the political activist shot down his chances as a shrewd member of the candidates select committee and close friend of Sir Orville was flabbergasted by the statements.
And while RODNEY MONCUR is being REJECTED BY THE DNA, we note A DRAG QUEEN, MALE STRIPPER and an OUTRIGHT CHURCH THIEF and former FNM were all accepted by the Party! Yet the political activist for more than 30 years is rejected?
Friends of Moncur promise to gather in protest outside the DNA headquaters at 2PM today if a decision to grant Moncur the Bain Town seat had not been concluded.
Earlier this year Dr. Jonathan Rodgers gave notice to former MP for South Andros, J. Whitney Bastian, that he was refused a nomination by the party as a standard-bearer for the seat.
Bahamas Press reporting live at the DNA headquarters on Prince Charles Drive.