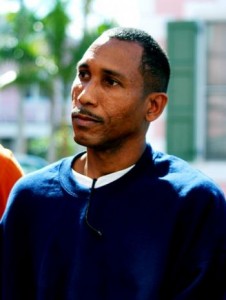 Nassau, Bahamas — Who takes a schoolboy to his house to use the bathroom and ends up bold naked with the victim in the bedroom? You guessed it, Andre Birbal and if you listened to the horror in the Supreme Court this week you see why BP tracked down a scum bag in New York, after officials in the department of education assisted him in his escape out of the Bahamas.
The reports from the Supreme Court are too graphic to repeat on BP, but the man who the Tribune promoted to be innocent, will now most likely be spending some long years in jail.
Birbal has had a long career in The Bahamas as an art teacher with the MOE. He, we know, lured scores of young boys in the Eight Mile Rock area to his after school program, which we are told was no after-school teaching event at all, but after school raping episodes would be a better description.
While at his home, as we reported before, a pack of CLANDESTINE PEDOPHILE LOVERS would congregate to prey on young, innocent school children to traumatize their lives forever. THIS IS WRONG!
Bahamas Press, you would remember, tracked down this pedophile in the US and was consistent with our pressures on the Attorney General's Office to issue the proper extradition requests so the abused children in the Eight Mile Rock community would witness justice firsthand.
Recounting his evils on the stand last week, Birbal said he took one of the young men to his home to use the bathroom and later found himself bare-chested with the youngster in his bedroom. And while recounting all this, he suggests, the young man made advances and not him. WHAT A DAMN LIAR! WHAT IN THE HELL A SCHOOLBOY DOING AT YA HOUSE IN THE FIRST PLACE?
Fact is Birbal admitted guilt of the incidents because for one, he never denied the question of affection between him and the young man to the prosecutor. Secondly, he also proved to the court this week that his home in Freeport was a haven for unnatural sexual acts and a hotbed for pedophilia! SOME PEOPLE HAVE NO DAMN SHAME!

Bahamas Press now questions incidents in respect to the former art teacher's involvement with a church on Grand Bahama and we have sent teams at the place of worship to investigate. We invite anyone who are/or were associated with the Lucaya Presbyterian Church, to assist us with our probe.
We are concerned and believe we have good and valid reasons to believe there are some serious incidents involving young children and this Birbal character. We would also like to speak with Birbal's ex-wife and gather some addition evidence as we dig further into this new investigation.
In the meantime, Bahamas Press invites you to read copies of a letter written by Birbal to his son back in August 2009. At the time he was in federal custody awaiting extradition back to the Bahamas. Here you would see Birbal made fame in the penitentiary as he shared hot water with famous Ponzi scheme criminal, Bernie Madoff.