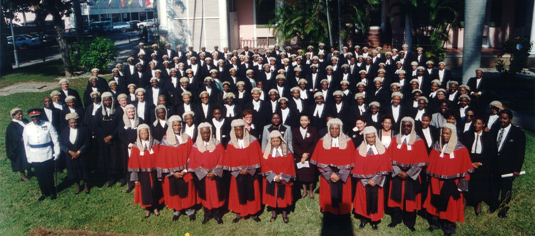 Nassau, Bahamas – We are reporting the attempted murder of a lawyer late last night, who was at his law firm in the Bay Street area.
Bahamas Press can confirm lawyer, Dennis Gomez, of Dennis Gomez & Co. was shot multiple times last evening as he worked out of his East Bay law firm. The motive of this shooting is unknown, but here's what we know.
Gomez was approached by a gunman who shot the officer of the court five times to the chest and discharged one bullet to the head, which passed through and through.
The horrific crime has left the victim fighting for his chance to life and has left a gripping blow to members of the legal fraternity.
A former associate of the victim told BP, "Crime and the fear thereof is leaving a lasting impression on the country. We are all shocked by this heinous act and call on the powers that be to mobilize all its resources of the State to squash period of blatant horror that has gripped our nation."
Doctors at this hour tell us the bullets have damaged vital organs in his body; including his heart and lungs. Gomez is listed in serious condition in ICU.
MORE CRIME NEWS <<<
A 19 Year-old Arrested at LPIA with Drugs
Sometime around 6:00 pm on Thursday 20th January, 2011 police arrested a 19 year old female of Millennium Gardens while in the pre -clearance area the LPIA after a quantity of suspected cocaine was found in her suitcase.  Police investigations continue.

A 15-year-old shot while walking on Peter Street
Shortly after 12:00 am on Friday 21st January, 2011 police received information of a shooting at Peter Street.  Police responded and information received that a 15-year-old male was walking west along west along Peter Street when he was approached by a masked male wearing a black jacket armed with a handgun, who shot him to the thigh.  The victim was taken to hospital via EMS personnel where he is detained in stable condition.  Police are investigating.
MURDER/HOUSE BREAKING SUSPECT ARRESTED
On Tuesday 18 January 2011, during the evening, police officers from the Internal Security Division (ISD) arrested a 19 yr old male in the Soldier Road, Nassau, area for questioning reference to House breaking. He was subsequently questioned by detectives in relation to the murder of a 17year old, which took place on Soldier Road on 22/9/2010. He is charged and will appear in Court shortly.
ARMED ROBBERY AT HARBOUR BAY
Sometime around 3:20 pm on Friday 21st January, 2011 police received information of an armed robbery at the Harbour Bay Shopping Plaza, East Bay Street.  Police responded and information received that a female was sitting inside her grey 2007 Honda CRV L/P 224854 when she was approached by a male wearing a red shirt, allegedly armed with a handgun.  It is reported that the culprit robbed the female of her jeep by forcing her out and fled the area towards Shirley Street. Police are investigating and appealing to members of public who have any information regarding this or any other matter to kindly contact them at police emergency 919, CDU 502-9991, or crime stoppers at 328-TIPS.
SHOP BREAKING AT COST RIGHT
Police can confirm that Cost Right, located in the Town Centre Mall was broken into.  Sometime around 6:37 am on Friday 21st January, 2011 police received information that the establishment was broken into by some unknown person/s.  It is reported that the culprit/s stole a number of electronic appliances and the company's safe containing an undisclosed amount of cash.  Police are investigating.
POLICE RAID SUSPECTED CHOP SHOP
Sometime around11:00 am on Friday 21st January, 2011 officers of the Central Detective Unit acting on information executed a search warrant on a wrecker place located in the Marathon Road area.  Officers searched and recovered numerous car parts including radiators, assorted car doors, windshields, hoods, bumpers etc. Six (6) males were taken into custody.