Third major accident in 24-hours – this one on Cowpen Road this afternoon…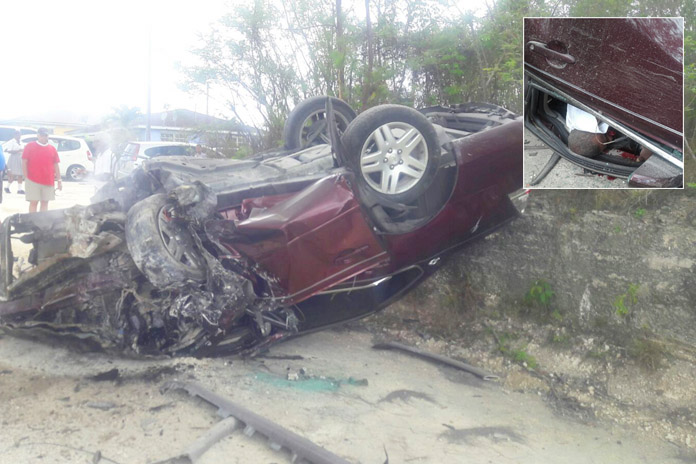 Nassau, Bahamas – Bahamas Press is right now live at the scene of another traffic fatality – this time in the Golden Isles community off Cowpen Road.
The victim, we can report, was driving along Cowpen Road west when he lost control of his vehicle, which spun and flipped as it crashed.
This is the third major accident in the last 24-hours. Two are reported dead, two in hospital after a traffic accident on New Providence Highway around 7 pm.
Last night two Prince William High students, following a graduation beach party on Saunders Beach, decided to race south in their vehicles to their deaths.
One vehicle crashed into a utility pole between the beach and the six-legged roundabout. One of the two vehicles was caught in the median, dislodging a light pole out of the ground as the tiny vehicle flipped into the air.
The male driver and a female passenger were ejected from the vehicle into the road and pronounced dead on the scene. Two female passengers were transported to hospital where they remain in stable condition.
In a statement issued early the morning, Minister for Transport Hon. Glenys Hanna-Martin wrote: "I urge all of our people to have a heightened awareness of the risks associated with distracted or dangerous driving.
"I wish to emphasise and reiterate the potential life-saving importance of using seatbelts. Please let us inform ourselves as to the deadly dangers associated with excessive speed; of particular concern is our young drivers especially as we approach the Summer months."
We report yinner decide!