Rollins and Wells will join Butler-Turner to get rid of Minnis which will open the party to Civil War leading into a general election!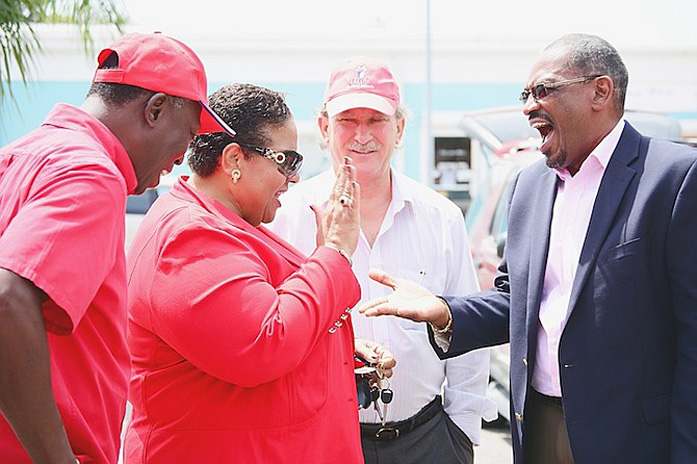 Nassau, Bahamas – A coup d'état is right now happening deep within the walls of the Free National Movement where forces are now seeking to remove the powerful Leader of Official Opposition, Dr. Hubert Minnis. We feel sorry for him.
Bahamas Press can confirm a meeting last night on Mackey Street descended deeply into chaos and erupted into argument after a motion to move up the Party Convention to challenge Minnis.
Voices in favour of the early summer convention, a block supported by former Deputy Leader of the FNM Loretta Butler Turner and strangely advanced by FNM newcomer Andre Rollins, suggested that an early convention would be in the best interests of the languishing FNM.
Since the day of his appointment, Minnis has become a target of heavy criticism within his struggling organization, which painfully has almost daily erupted in one scandal after another with multiple casualties in the Senate.
Recently the party released Minnis' hard line supporter, Lanisha Rolle, from the Senate after she was ensnared in recordings revealing the details of the party's internal fights. Rolle was quickly sacked and replaced by Duane Sands who openly announced his ambitions for the leadership.
Sources in last night's meetings say the move for an early conclave was blocked by the Grand Bahama FNM delegation of the Council who warned that any movement by anyone on Dr. Minnis will result in a deep and long drawn-out civil war within the FNM, one which would play out well after the general elections scheduled for 2017.
In a meeting tha has just wrapped up a short time ago, sources confirmed an agreement to oust Dr. Minnis as Leader of the Opposition and a move to enthrone Long Island MP Loretta Butler Turner to head up the Parliament team has been accepted. The problem with the coup d'état against Minnis is this: the Killarney MP is a Member of Parliament and will still be leader of the FNM until a convention set up by him.
We report yinner decide!