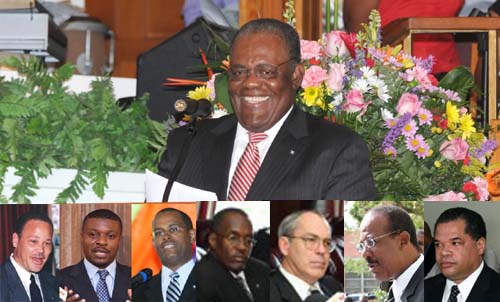 Nassau, Bahamas — Breaking news coming into Bahamas Press now confirm that a Cabinet minister will be relieved of his duties following the 2009/10 budget debate in July. A sources confirmed today that Prime Minister Hubert Ingraham is in no way satisfied with work of one of his ministers, who has been the talk of much controversy in the media of late.
We've also learned that recently decisions made by the minister has so upset the prime minister, that it left him no other choice but to relieve him of his duties.
Ingaham during the 2007 general elections assured the Bahamian public that under no circumstances will he allow a minister to continue to serve in his Cabinet if he is found engaged in "hankey pankey" .
The Ingraham government has dismissed rumours of a pending Cabinet shuffle following the budget debate, however, a source deep inside the ministry of finance has not only confirmed to BP that civil servants will be going home, but also said, "Certainly there will be a Cabinet shuffle as was done last year. Members of Parliament should only look at the money allocated in this new budget and they'll see a change in portfolios as was last year."