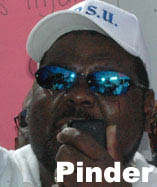 Nassau, Bahamas — The count went late into the night, but as the ballots were counted, John Pinder, was returned to the presidency of the Bahamas Public Service Union.
Just after Pinder's last election BPSU has lost more then 1,000 members, and prior to this election the organization lost branches of union members in both Customs and Immigration. The weaker financial position of the Union under Pinder's watch was a recipe for a vote out of office. It didn't happen.
So what caused the return of Pinder? Well the fact is his strongest opponent was a hard-line FNM, who we know to be a close friend of the PM. What was even more interesting is this, that team seeking the control of the Union, was being bankrolled by the political directors of the FNM Government; rolling out sleek campaign ads on TV, radio and in print. Their cool new look however was not enough to deliver a victory last night.
With no other strong contender in the race we at Bahamas Press quickly settled for the lesser of two evils and watch the battle from the sidelines.
John Pinder is back in the chair, and so be it!