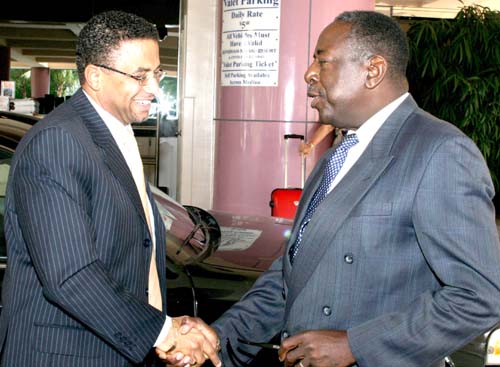 <<< Minister of State for Immigration and MP for Bamboo Town Branville McCartney shakes hand with Gaming Board Director, B. K. Bonaomy (file Photo).
NASSAU, Bahamas – The Immigration Department has completed its policy paper that deals with the transit of persons across Bahamian borders, Minister of State for Immigration the Hon Branville McCartney told Parliament.
The document also deals with persons intending to work and remain in the country, and will address the need for change within the Department, Mr. McCartney said June 8, during debate on the national budget.
"The paper, once approved by Cabinet, will be easily read," he said. "It will bring clarity to the many questionable concerns and address all those areas often deemed ambiguous and vague."
The budget for the Immigration Department is $15,607,472 for fiscal year 2009-'10.
"Improved and outstanding customer service is a priority of the new mandate given to the new directorate," said Mr. McCartney. "In recent months, the department has given much attention to this area."
He said plans are underway to devise a plan of action to effectively address customer service.
It will provide for the training and retraining of staff, identification of customer friendly employees to deal with the public, and reconfiguration of customer service areas.
"It is imperative that the Department reconfigure its offices so as to deal effectively with customers' needs," said Mr. McCartney.
It is envisaged that during fiscal year beginning July 1, adjustments will be made to the interior of the Hawkins Hill building, so as to allow better customer service, Mr. McCartney said. Plans are underway for major developments to the Freeport, Grand Bahama office.
The Department plans to launch its website this September. The public will be able to download application forms and deal with other matters online.
"Education and public relations are the tools that will keep the public informed," he said. "Therefore brochures and pamphlets are being designed for publication which will keep readers and applicants abreast and knowledgeable about the Department.