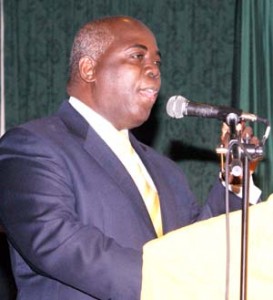 Freeport, Grand Bahama –  Bahamas Press presents remarks by Cat Island, Rum Cay and San Salvador MP, Philip Brave Davis at the PLP Conclave in Grand Bahama on Friday night.
Party Leader,
Party Chairman,
Members of the Parliamentary team,
Party Officers, Grand Bahamians,
PLPs – Good Evening.
These are serious times, Grand Bahama! [ These are serious times!!]
But you do not need ME to tell you what YOU can see for yourself.
I do not have to tell you that the glory days of Freeport seem like distant memories.  I do not have to tell you of the hardship that is strangling the life out of this island.  They say who feels it knows it, and right now YOU are feeling it here in Grand Bahama, and YOU know it.
You know of the poverty! You know of the hopelessness!  You know of the despair! You know that there are no jobs! You know that there is little opportunity!
You know that it is like to be a second-class citizen in your own country!  You know of the lies and deceit!  In fact you know too well! This is a far cry from the Grand Bahama I lived in some thirty years ago.
They love to call Grand Bahama FNM country, but we all know that FNM's on this island are catching hell too, just like everybody else. This Government promised all sorts of miracles for Grand Bahama. Instead they have turned their back on you. They have neglected you!
There are three Cabinet Ministers representing Grand Bahama constituencies, but do THEY really care about YOU?  What have THEY done for Grand Bahama? What has Grand Bahama done to deserve their bad treatment?
Now is that time for men and women of this island to take that big leap!  You must fight today for your future and the future of your children and grandchildren!
Grand Bahama, PLPs, now is that time!  We cannot rest on our laurels!  We cannot afford to fight amongst ourselves while our [whole] country is being run into the ground!  We cannot remain silent while the few rape and pillage the land at our expense!  We cannot sit quietly while victimization, bitterness and spite govern our land!
This FNM Government has shown that it has no faith in the Bahamian people.  No confidence in Bahamians collective and individual ability to lead and innovate.  We see clearly through the proposed privatization of BTC, Bahamians were told that they need not apply…that they want to "own every damned thing". These fellas gotta be crazy!
How in the hell you can tell Bahamians that they can't own their country?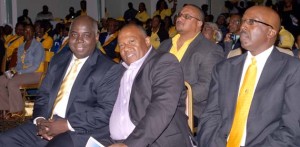 How in the hell can you – as a Bahamian – run a country, but tell Bahamians that they can't run a company?  This is what the fight for Independence was about!  It was about self-determination!  It expressed the belief that Bahamians – yes, you, your children and me and my children – could do whatever they wanted to do! Could achieve whatever they wanted to achieve!  We fought this fight and won 37 years ago and these fellas still don't get it!
They still don't understand that the Bahamas must now and forever always be a place where Bahamians can dream and then accomplish their dreams!  It must be a place where Bahamians feel that they can AT LEAST get a fair shake!  It must be a place that DOES NOT deny them opportunity, or retard their growth!  The Bahamas must be for Bahamians!
The Government of the Bahamas cannot treat foreigners better than they treat their own people!  I state now publicly for the record that as long as breath is in my body and life finds me in the morning, I will shout "BAHAMIANS FIRST!!!!!!!"  This is what we believe in the PLP!  This is the central philosophy which caused our birth and guides us today…Bahamians first.
Do you know that we do not own our own air space?  Our airspace is owned and managed by the [US] FAA.  BahamasAir has to pay an American Government agency to fly over The Bahamas.  The FAA collects approximately $150 Million Dollars annually in fees from airlines flying over BAHAMIAN airspace.  The Christie administration commenced negotiations for The Bahamas to manage its own airspace.  This would have provided $100 Million dollars in revenue every year!  Hubert Ingraham and the FNM did away with that.  In fact, the Prime Minister was on a talk show recently and had the gall to say that Bahamians are not competent to manage their own airspace. Maybe he was talking about himself. He said it could not happen.  He said it would not happen.  I wonder if the PM knows that Cuba manages its own airspace!  The Dominican Republic and Mexico manage their own!  Jamaica manages its own airspace!  Yet we are told Bahamians are incapable!  What makes them any better or any smarter than Bahamians!?!?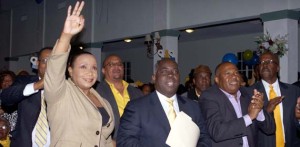 We need not look any further than the ongoing road works in Nassau to realize what the FNM government thinks about Bahamians and our abilities.  My God, we have the seven miles of road way at a whopping cost of $70 Million dollars.  That is right $10 Million dollars per mile.  Undoubtedly it will be the most expensive road ever built in the history of The Bahamas.  Perhaps one of the most expensive roads ever built anywhere.  And yes its being built by the Chinese!  Then there is also the Argentinean Company that the Government has hired and paid tens of millions to build roads all over the Bahamas.
Hubert Ingraham, Neko Grant and the FNM do not even believe we are capable of building roads.
I can show you road after road that were ALL built by Bahamians AND built at a world class level!
They call the construction of roads the Bahamian stimulus package yet most of the money is being sent out of the country to feed children in China and Argentina.  The Government is borrowing like crazy!  The Argentineans and the Chinese are benefitting and we the Bahamian people for generations to come will have to pay!  What kind of voodoo economics is that?
Hubert Ingraham and his Government want us to have faith in them, yet they have none in us!  Bahamians deserve better.  We deserve a PLP Government led by a caring Perry G. Christie – a man who believes in Bahamians!
Grand Bahama, take a serious look at what is really going on in our country.  This Government does not care about you. They do not care about the average man!  Just look at their actions!  Look at the way they treat average Bahamians!
Look at the arrogant and insensitive way they downsized ZNS.  Today, the corporation is struggling to compete.  And day after day they are running ads to fill positions that they made redundant. I am sure you have seen them on your TV!  What kinda foolishness this is?  You send people home claiming that the Corporation is over-staffed and nah you running ad for the same positions?  They have created a complete disaster!
What I find even more disturbing about the ZNS saga is that this government thought it was okay to send people home during a recession!  They said the Government was broke.   This same trust Government has however given over $26 Million dollars to 19 of the wealthiest families to build a private port in New Providence.  Don't forget that these families will continue to operate the port to the exclusion of all other Bahamians and make millions more by charging Bahamians an arm and a leg for freight. These same families have been given prime water front real estate worth millions to conduct their operations.  They have been also given valuable property inland to construct warehouses.  And to top it off the Government has spent tens of millions in road works and new roads primarily to facilitate these wealthy Bahamians including the Deputy Prime Minister and the new port development. Yes this same port that Earl Deveaux has said that New Providence and the Bahamas will outgrow in 15 to 20 years.
Where is the sense in all of this?  Where is the logic?
They have created legislation to give property tax relief and customs duty exemptions to these same rich families who own properties on Bay Street while the average man throughout the country is left to carry the tax burden.  This cannot be right!
Recently, the Public Treasury in Nassau has relocated to a newly built building on Bay Street owned by the Symonette family. Yes the family of the Deputy Prime Minister.  When is enough, enough!   Who knows for how many years we will have to foot the cost of rent for that space!
What is this Government's agenda?  In whose interest are they governing?  Not you or me!  Not even the thousands of middle class Bahamians who voted them in 4 years ago.
What have they have done for us?
They have suspended the loan scholarship program!
They have cut funding to private schools and education in general!
They have cut funding to charities!
They have raised taxes on books and school supplies!
They raised taxes on baby food and items!
They have borrowed and borrowed!  And have you benefitted?  Where has the money gone to?  Or better you, who has the money gone to?
Actions speak louder than words.
Just look at Grand Bahama!  Look at how they have treated you! In all these years there has been just one major project – the construction of a new Government complex here.  Was it needed?  What about all of the buildings presently owned or leased by the Government that are unoccupied.  What is behind all of this madness?  They have spent millions of dollars on this complex lining the pockets of a pre-selected few.  This is a waste of the tax payers' money!
Those millions of dollars would have been better spent directly on alleviating the economic hell being experienced by Bahamians here in Grand Bahama.  That money could have provided some relief from electricity bills or training for young Bahamians so that we remain competitive.  That money could have fed and provided shelter and housing for so many people here.
The Government has failed to work closely with the Grand Bahama Port Authority to devise strategies to jump start the local economy.  In fact FNM Ministers have created an unnecessary rift between the Port and the Government.  Their arrogance is further killing the economy here.
The Hawksbill Creek Agreement is scheduled to expire in 2015, yet no one is talking about it.  This Government is sleeping at the wheel.  They do not care about Grand Bahama.  They do not care about you.
Despite all the tragic accident that occurred last year and the erratic weather we have experienced of late, they have failed to reopen the MET Office here.  Do they care about your safety and well-being?
They have shown no concern for the environment here in Grand Bahama. They have shown little to know effort to attract foreign investment.
As you know, we are no longer able to see ZNS evening News Freeport edition in Nassau.  Why?  It is because you do not matter to those in the seat of Government in Nassau.
Hubert Alexander Ingraham and the FNM have failed Grand Bahama!
PLP's – listen to me carefully – it is time that we unite to put an end to the FNM and their destruction of the Bahamas.  Whatever differences we have are small compared to what the FNM is doing to our country.  We must work together in the interest of our country and our children.  United, we shall succeed in winning back the Bahamas for Bahamians.
The time for talk is over…
The time for lip service is gone…
The suffering and pain of Grand Bahamians DEMANDS immediate and direct action!
It is unacceptable for Grand Bahamians to be forced to live in the bush because they do not have a roof over their head…
To sleep in the dark because they have no light…
For children to be kept awake with pains from hunger…
Grand Bahama it is unacceptable!  We cannot accept this!  You cannot accept this!  This is the Bahamas…the third richest nation in the Western Hemishpere!  The government of the Bahamas must act and act now!
Just over two weeks ago the biggest sale of any company in the history of the Bahamas took place right here in Grand Bahama!  The deal, which was for the sale of a portion of BORCO to Buckeye Partners, was for USD 1.36 Billion dollars!  This sale my fellow PLPs will give the government around $63 Million dollars in tax revenue!  The question that you should ask the government is how much of this $63 Million dollars will go to the people of Grand Bahama?
What happened to the tens of millions in stamp tax that was collected from the sale of Vopak? [Why aren't all those millions of dollars being spent right here where it is most needed?] It is needed here in Grand Bahama. It is needed now!
I challenge the government tonight, to pledge ALL of that money to the people of Grand Bahama!
Today marks a new beginning between the people of Grand Bahama and the PLP. We have come anchoring our tent here on this island to restore this part of our country back to good health.
Today, the once FNM Country is hurting and needs a physician. It needs Progressive ideas. It needs new thinkers, movers and shakers. Grand Bahama needs a PLP government!
Today, we have come to Grand Bahama to let you know that time for CHANGE has come!  It is time to make Grand Bahama grand again.
The PLP is about people.  We must all send that message.  We live in a country where buildings and roads are being built and decorated while people are hungry and living in darkness.
Grand Bahama, as the next Deputy Prime Minister of the Commonwealth of The Bahamas I assure you now that we will move Grand Bahama forward. The PLP will make Grand Bahama grand again.
We will reinstitute and create powerful and far reaching  educational, civic and community programs  to address growing social concerns.  We commit tonight to help those that are destitute find employment and restore hope!  We will empower our young men and women.
Your PLP Government led by Perry Christie will provide major incentives for young business people in Grand Bahama.  We are committed to ensuring greater Bahamian ownership and participation in the local economy.
After all, this is your country!
We will address the issue of the expiration of the Hawksbill Creek Agreement heads-on!  We will consult the people of Grand Bahama to ensure that your voice is heard!  The next Government of the Bahamas – a PLP Government – will ensure that we negotiate an agreement whereby the Port continues to be a viable entity while providing greater opportunities for Bahamians.
Your PLP government will aggressively promote Grand Bahama Island as a place for commercial and touristic development.  We will place a major focus on attracting offshore financial services companies and e-business to these shores.  We will make Grand Bahama grand again.
Tonight I can assure you that young Bahamians will play a meaningful role in turning Grand Bahama around. Young people, together we will make Grand Bahama grand again. So many young PLP voted for the FNM in 2007 and yet they have been cast aside.  The PLP welcomes and embraces you.  We cannot and will not ignore you who are the future of The Bahamas.
The stone that the voters rejected in 2007 will become the cornerstone to restore Grand Bahama and our entire nation when the next elections are called.
A better tomorrow is coming for Grand Bahama!  A new beginning is almost here!  Hold on my brothers!  Hold on my sisters!
As some others would say, it aint long now!
Your PLP is here – united and ready to go.
PLP!
—-End —