PLP Leaders Renewing Their Promise to Believe in Bahamians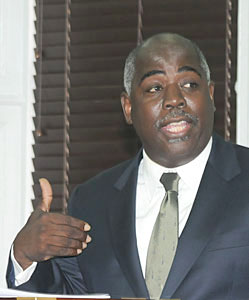 Nassau, Bahamas — Christie's Viceroy Philip Brave Davis has issued an edict and instructed BEC to have all 7,000 Bahamians who have been left in darkness since Hubert Ingraham was Prime Minister back on the grid by June.
The hard times left behind by the global recession have hit households hard in the past five years and today the Christie Government is set to turn things around.
The announcement to have the lights back on was communicated by BEC Chairman Leslie Miller to the media this week and the news is good.
Since May 7th, 2012 Bahamians have been catching hell.
Last year, in a foiled attempt to save their wutless record, the Ingraham government ordered some 6,000 homeowners to be taken off the grid for failure to pay their bills.
After driving down the economy into the worse recession since the great depression, the Ingraham Government then purchased one-bunch of energy saving light bulbs to give away, forgetting that the receivers of those bulbs lights were off!
UNBELIEVABLE!
Davis' instruction comes to the Corporation at a time when it discovered that one cashier at BEC was paid almost $100,000 while the Ingraham Administration sat in office.
The shameful abuse, backside rape and blatant mishandling of the public purse by the Ingraham government proves that someone's hands are as dirty as sin!
What the duties of that cashier were are still unknown!
We report yinner decide!