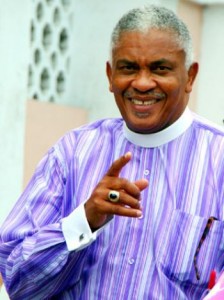 Dear Bahamas Press,
Please let the idiot who wrote that silly letter several days ago regarding Bishop Laish Boyd know that he should be ashamed of himself. He can be as appalled as he wishes. The fact remains Brown shows  no respect for authority. The issue is not about the vestry member and the petty issues he and Brown have. As far as I and many in the church are concerned both the Rector and the vestry member are wrong. They both have arrogant attitudes and have dragged our bishop into a war that embarrasses the church as a whole. This is not the first time the Rector and the said vestry member have caused problems and rumour in the church. Both men talk too much and can't seem to show humility.
With regards to the church's finances the writer needs to get a grip. No church can function without its members. I never knew any priest to bring personal investments to any church. So please spare us the rubbish about what the Rector gives to the Diocese. Whatever he gives to the wider church is provided by the people of our church. Its not his personal funds and the Diocese needn't be grateful to him personally. He donates on our behalf and with our resources.
I am sick of people defending poor behaviour and leaders who act as if they answer to know one. Like it or not L. Boyd is our Bishop and I respect him. You may not agree with all of his decisions but at least respect his authority. The Rector publicly disrespected the office of the Bishop and the man himself. If the Bishop did not act he would certainly lose the respect of his clergymen. Especially after recently reprimanding younger priests in the fold. The Rector and Vestry member have put to Bishop in a bad position. And who cares how long the writer was a member. I was baptised and raised in St. Agnes as were my parents and grandparents. There are many others with the same story I'm sure. But I cannot and will not defend my Rector in this case. He needs to man up and apologise. Besides, one must really question how can he expect to lead if he can't be humble enough to follow? Isn't that a part of the story of Jesus? See in this country, we like to overlook people's attitudes and behaviour because of who they are.
We can all agree that he has done a stellar job of managing the tangible affairs of the church. On the other hand, his personal issues and poor behaviour puts a damper on his successes. He frequently comes off as uncaring and aloof to many members of the church. We are tired of his brow beating, personal insinuations and snide remarks. We appreciate the work you do and will support your ministry. But we demand more from you and we ask that he and anyone else who becomes our Rector in the future to lead by example. The vestry needs to stop being yes men and tell the Rector when he's wrong.
Signed,
Royal T.