DPM Davis thanks US for its continued partnership  in fighting crime…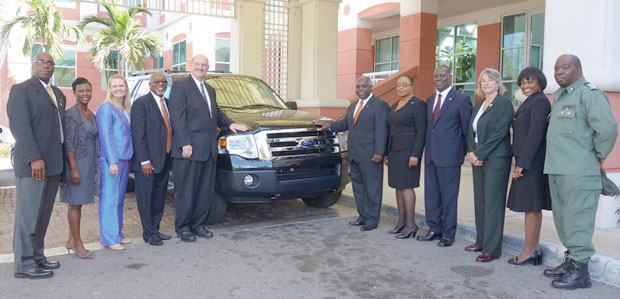 Continuing the U.S.-Bahamas partnership under the Caribbean Basin Security Initiative (CBSI), on Thursday, February 6 United States Chargé d'Affaires John Dinkelman formally donated a 2014 Ford Expedition Sport Utility Vehicle (SUV) valued at over $40,000 to the Ministry of Foreign Affairs and Immigration for use in Freeport, Grand Bahama.
The custom-made vehicle, donated through the United States Embassy's International Narcotics and Law Enforcement Affairs Section (INL), will enhance the Department of Immigration's capabilities to fight transnational crime, including human smuggling and trafficking in persons, in Freeport, Grand Bahama.
At the formal handover Chargé Dinkelman noted "The Department of Immigration is an important partner in our joint fight against transnational crime," adding the donation "further deepens our regional security partnership."
On hand for the presentation was Deputy Prime Minister Phillip "Brave" Davis, Permanent Secretary Philip Miller, Parliamentary Secretary Cleola Hamilton, Director of Immigration William Pratt, Assistant Director of Immigration Fausteen Major-Smith, Assistant Director of Immigration, Northern Region, James Rolle, Senior Immigration Officer Jerome Hutcheson, and other senior officials.
Director of Immigration William Pratt told assembled officials that the timing of the donation was "excellent," and that the new resource would help enable the Department of Immigration to investigate complex smuggling operations through the archipelago.