– Rosa vs. Major: This Friday at Wyndham Nassau Resort –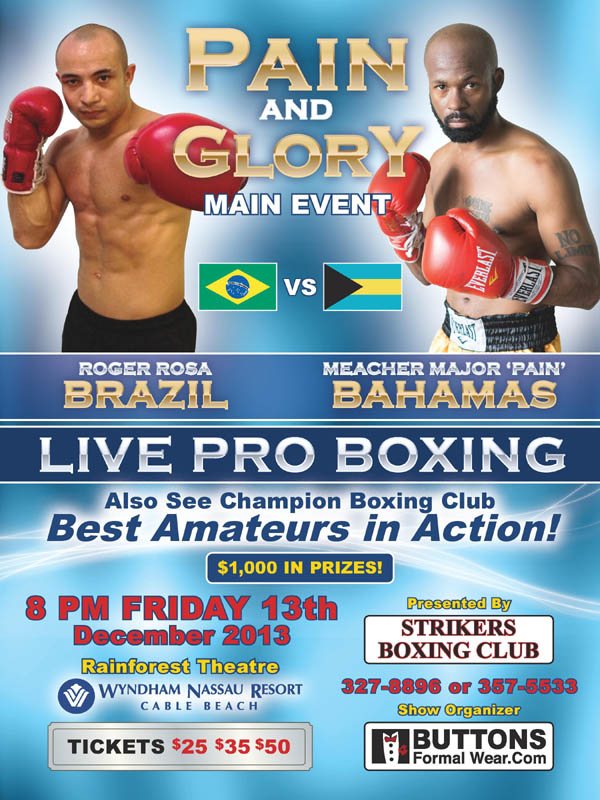 Boxing Day comes early this holiday season in Nassau when "Pain & Glory" professional boxing event takes place inside the Rainforest Theatre at Wyndham Nassau Resort at 8:00 p.m. December, Friday the 13th.
When boxer Roger Rosa recently signed to take on Meacher Major "Pain", it officially marked the second time a Brazilian native will meet a Bahamian boxer in the ring in a prize fight.
The last time a Bahamian met a Brazilian in the pro ring came in 1975 when Bahamian boxing legend Everett Ferguson, alias Elisha Obed, made the Bahamas proud in defeating Miguel De Oliveira for the World Boxing Council's light middleweight championship title.
Elisha Obed was treated to a hero's welcome back home after he TKO'd Miguel De Oliveria in Paris, France, in the 11th round of their scheduled 15-round bout to capture the first and only world boxing title by a Bahamian. Even a song was written to honour Obed.
When lightweight boxer Roger Rosa fights Commonwealth champion Meacher Major "Pain" in the main event this Friday, December 13th, it may not be for a world title, but he will seek revenge for what Obed did to his countryman 38 years ago. Meacher Major has guaranteed this will not happened, not on his home soil.
At the crossroads of his boxing career, Meacher prediction for the fight: "Pain" for Rosa and "Glory" for the Bahamian boxing sensation and hundreds in attendance.
The "Pain & Glory"undercard will feature two other pro fights – American Mike "Money" Sawyer against Cuban native Alex Perez and Dencil "Death" Miller vs. Lster Brown in a Bahamian grudge match.
Some of the country's finest amateur boxers will see action against American counterparts prior to the pro card. The event is promoted by Tommy Stubbs and Buttons Formal Wear.
Embassy of Brazilian Charge d'Affaires Alexander Silveria was on hand recently at Mario's Bowling & Entertainment Palace to welcome his fellow Brazilian to the Bahamas, and saw Rosa's visit as a big step in fostering a sporting relationship between the two countries. Only time will determine whether Major and Rosa will foster any type of relationship when the final bell sounds off.
Current "Pain & Glory" notes…
(See attachment)
Meacher in Lights…
Encourage persons to drive by the Crystal Palace Casino where they will see a Lighted Billboard featuring Meacher Major "Pain" and his Brazilian opponent Roger Rosa. It's the first recorded time a Bahamian boxer has had his match in lights here in the Bahamas.
Meacher larger than Life…
There are four huge fight promotional billboards on the streets of New Providence where Meacher Major "Pain" is pictured larger than life-size. No Bahamian boxer has ever had his image as large.
* * *
Today's Boxing Trivia
Question:
1. What are the real names for these six (6) Bahamian fighters with nicknames:
a. Baby Boy
b. Cho Cho
c. Boston Blackie
d. Major Pain
e. The Tank
f. Androsian Tiger
Answer:
a. "Baby Boy" Rolle/Abraham Kirkwood
b. Jermaine "Cho Cho" Mackey
c. Leonard "Boston Blackie" Miller
d. Meacher "Major Pain"
e. Sherman "The Tank" Williams
f. Ernie "Androsian Tiger" Barr
Question:
a) How many Bahamians have won world boxing titles?
b) Give their boxing names, their birth names and when they won their boxing titles?
Answer:
One Bahamian has won a world boxing title….
Everett Ferguson, alias Elisha Obed, who won the World Boxing Council light middleweight title Nov. 13, 1975, in Paris, Francis, against Miguel de Oliveira, stopping the Brazilian with a TKO in the 11th round of their scheduled 15 round fight. Heading into the title fight, Obed record was 59-1-2 and de Oliveira record was 43-1-1.
NOTE: Obed defended his title twice, before losing the title by way of TKO in the 10th round to Eckhard Dagge in 1976 in Germany. Obed fought to recapture for the light middleweight title in 1978, but lost).
Question:
Who are the most famous Bahamian father & son pro boxers of our time:
Answer: Ray Minus Sr. and Ray Minus Jr.
Question:
Which one of the following Bahamians was not a heavyweight boxer:
a) Leonard "Boston Blackie" Miller
b) Bert Perry (ex-police, author)
c) Pat Strachan
d) "Baby Boy" Rolle
Answer:
Pat Strachan – a cruiserweight with a win-loss record of 25-8.
His last fight was in Tel Aviv, Israel, in 1988 where he lost).
Question:
Which Bahamian boxer has the most fights and what was his career record?
Answer:
Elisha Obed who fought 115 times – 88 wins, 21 losses, 4 draws (2 no contest)