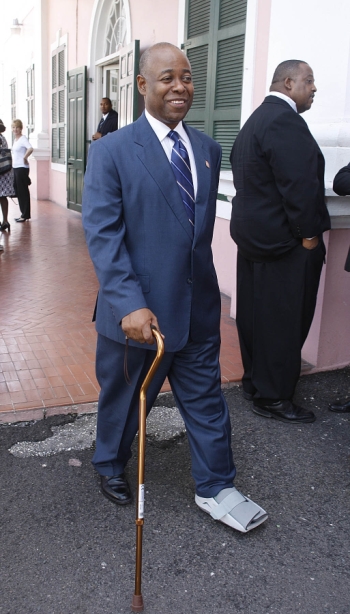 <<< Obie 'Da Snitch' Wilchcombe hopping out of court after giving testimony in the extortion case involving American actor John Travolta.
Nassau, Bahamas — Reports coming in are confirming that yesterday Perry Christie met with Obie 'Da Snitch' Wilchcombe and 'Hometown boy' Picewell 'Socca' Forbes to discuss the rumors circulating that 'Papa' has another PLP in his new bag and had offered a PLP MP the position of Chairman of URCA.
Now Bahamas Press told you that Perry called a last minute meeting to save the MP from leaving front line politics; but little did he know nothing he has to say will prevent the MP from leaving. LATE AGAIN!
The position once the Chairman is appointed cannot be easily be removed and we are told it carries a six [6] digit salary with perks! The post is one with with autonomy is held like a judge where the appointee cannot be removed easily no matter how the government change.
The only ruse is that whoever accepts this job must resign and force the country into another by-election. Who will be next to sell their political soul to the red DEVIL?
Bahamas Press warned Christie just last week to quickly deal with 'Da SNITCH', he didn't listen. We told him in that Sunday article to remember how we warned him about Malcolm Adderley.
Well, some people never learn and others are slow learners. Whoever said lightening doesn't strike the same place twice? For Perry and his PLP this move would be the third strike. When they ga learn?