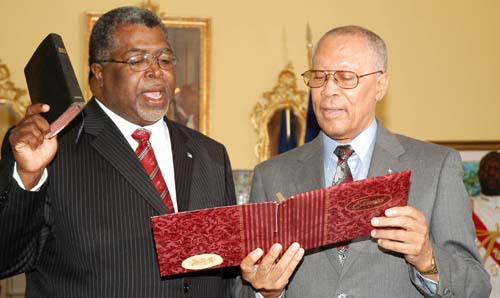 <<< Micheal Barnett (Left) being sworn in as Attorney General of the Bahamas back in July 2008 at Government House by acting Governor General Arthur Foulkes.
Nassau Bahamas: Breaking News now coming into Bahamas Press confirms that a senior lawyer in the office of the Attorney General has filed a sexual harassment complaint.
We've learned that the senior lawyer reported the matter two weeks ago after the harassment incidents occurred by a member of the bar. The male lawyer is said to be relentless in his advancements and continues to SEXUALLY HARASS women in the government department. BP has learned that the lawyer also wrote a letter detailing her complaint to one of the WUTLESS media companies, however, the letter has yet to be published. The lawyer should now know, ONLY Bahamas Press takes such complaints seriously!
On July 24th last year BP delivered a story, which was publish under the headline which read, "A Sexual Predator in the Attorney General's office". In that article, we scolded the then newly appointed AG Micheal Barnett. We warned that Barnett has a serious problem with accepting the word "no" from females in the work environment, particularly when it comes to his lewd, obscene and vulgar sexual advances.
And now someone in his office has decided to take on this sexual spirit, and has landed the office under the lens of the media again. What will Barnett now do to fix this SEXUAL HARASSMENT mess now emanating out of his office? Who will now go to jail or before the courts? And will the Prime Minister now remove the AG if he fails to deal with the complaint?
Hubert Ingraham told parliament, during the debate to appoint a select committee to investigate sexual molestations at the Eight Mile Rock High School, that for the first time in the history of The Bahamas a senior civil servant will retire for allegations of sexual harassment. In a time when babies are raped, schoolboys molested, teachers abusing students and skipping town, today the Attorney General's Office is now investigating a complaint of SEXUAL harassment within its walls. What will the authorities now do? We shall wait and see.