Signing expected in hour hour of this report….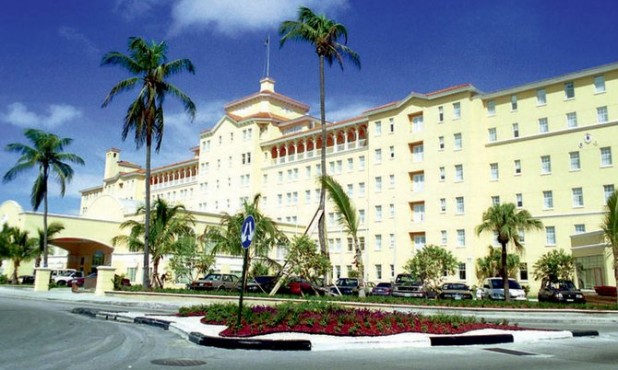 McCaysville GA – October 24, 2014 (hospitalitybusinessnews.com) According to a report by the Nassau Guardian, China State Construction Engineering Corporation (CSCEC) has purchased the British Colonial Hilton, located in Nassau, The Bahamas, after 20 months of negotiations.
No purchase price was disclosed. The property consists of two office buildings (105,000 s/f total), the hotel, and some undeveloped land all sitting on the Nassau Harbor front. In December of 2013 the Tribune newspaper reported that the asking price at that time was in the $60m range.
The purchase of the hotel by the Chinese construction company increases their hospitality holdings in the Bahamas. They currently have a $150M investment in the $3.5B Baha Mar project on Cable Beach and the Chinese Government provides the financing for the project through a Chinese State owned bank.
Of particular interest in this transaction is +/- 6 acres of undeveloped, harbor front, property that belongs to the hotel. Original plans where to build a marina along with restaurants, shops and perhaps some condominiums. At one point a contract had been negotiated with Island Global Yachting but the deal fell through.
The British Colonial was built in the early 1900′s and is Nassau's oldest hotel. Sheraton first came to the Bahamas when it put it's name on the British Colonial Hotel in November 1962. According to a Wall Street Journal article on November 6, 1962, the British Colonial, which was managed by Gill Hotels Company, became the fourth hotel that Sheraton had ever franchised. The property fell into disrepair, starting in the early '80's and Sheraton subsequently pulled the brand. The hotel then became a Best Western. In the mid '90's Ronald Sutherland, of the Hemisphere Group, negotiated the sale of the hotel to Canadian investor Ron Kelly who, with Sutherland's help, brought on Hilton International to manage the hotel. The hotel reopened in November 1999 as the British Colonial Hilton.
After the purchase of the hotel by Kelly it was gutted and completely re-done. Sources say that the final cost of the project, along with the purchase price, was between $95-$100M.