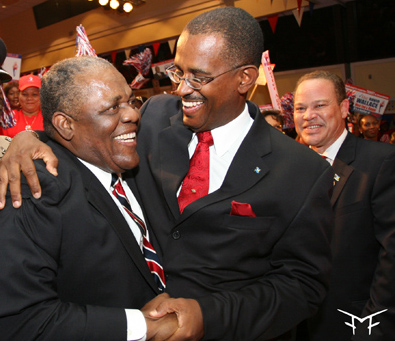 Nassau, Bahamas — It can only be describe by BP as a NATIONAL GIVE-A_WAY! BTC has sold 51% of its interest to Cable & Wireless; company with a struggling performance record.
Bahamas Press finds it disgusting to note that the Bahamian people is being lied to again! Why would the FREE NATIONAL MOVEMENT LEADER CONTINUE TO LIE TO THE PEOPLE!
First they told the Bahamian people in Parliament BTC will be sold for $260 million. However, today the government confirmed BP's report stating, BTC will be sold for $210 million, with no less that $15 million LEFT in the bank.
The reality is this, Cable & Wireless will only pay the rock bottom price of $195 million for the cash cow; A FIRE SALE! BTC made a gross of over $370 Million last year! This would mean the WUTLESS Ingraham Gov't has sold the public asset for a near measly half the gross income annually! SOME PEOPLE HAVE NO DAMN SHAME!
We cry SHAME on the WUTLESS Mugabe GOV'T of Hubert Ingraham. We cry shame of the Damn Privatization Committee and we cry 'DUTTY' SHAME ON THE 'VICKED' UNION LEADERSHIP.
WE NEED CHANGE!