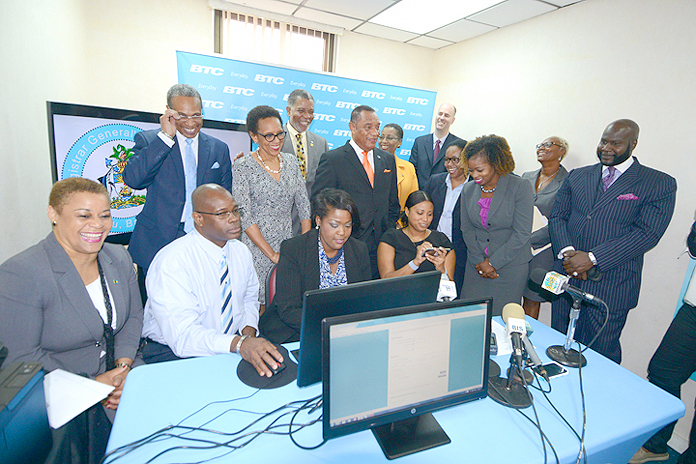 NASSAU, The Bahamas – The Government of the Bahamas officially launched its E-Services Business Registration Platform at Registrar General's Department on Shirley and Charlotte Streets, January 5, 2016.
Registrar General Deirdre Clarke-Maycock described the initiative as a "collaborative" process between public and private sector agencies that allows The Bahamas to compete "effectively" with international jurisdictions and demonstrate its leadership in the region.
"Today's launch enables and empowers young and ambitious Bahamian entrepreneurs in Inagua, Eleuthera, Abaco, Bimini or anywhere in the country, to simply log into our system using their smartphones, tablets or desktop computers to initiate and most importantly complete the process of incorporating their companies entirely on line," said Ms. Clarke-Maycock.
Prime Minister Perry Christie headed the list of dignitaries attending the ceremony. Among other officials were the Hon. Allyson Maynard-Gibson, QC, Attorney General and Minister of Legal Affairs, and the Hon. Hope Strachan, Minister of Financial Services. Representatives of various private sector partners including BTC and the Bahamas Financial Services Board were also present.
The launch allows the following online services:
· Reservation of Company Names
· Incorporation of Regular Bahamian Companies and IBC's
· Ordering Company Documents
· Filing Company Documents
· Company Searches and
· Payment of Annual Fees Online
Mrs. Maynard-Gibson said the initiative further positions The Bahamas as a "regional trend setter" and "go-to place" for company services that are important for financial services and domestic business.
She remarked that back-end support services will complement the level of service introduced today and affirmed that the staff is committed to ensuring that it will no longer be "business as usual."
"This Government has been focused on effecting changes which will improve the ease of doing business in The Bahamas and as a result, we have begun the process of transforming the Registrar General's Department. What you see today is but the first step in the transformation process," said Mrs. Maynard-Gibson.
She revealed that work is in progress to unveil Version 1b on February 1st and Version 2 in the third quarter of 2016.
"We are not resting on our laurels. Our aim is to have a paperless Registry. We have made significant progress towards being a World Intellectual Property Organization (WIPO) approved IP registry; more ships are signing up for our Maritime Marriages services; the work has begun towards 21st century recording of deeds and documents and we are perfecting the system for safe and secure recording of births and deaths," she added.
Following remarks by the Prime Minister demonstrations were conducted incorporating the first company with the use of a computer, and the first company via a smart phone.