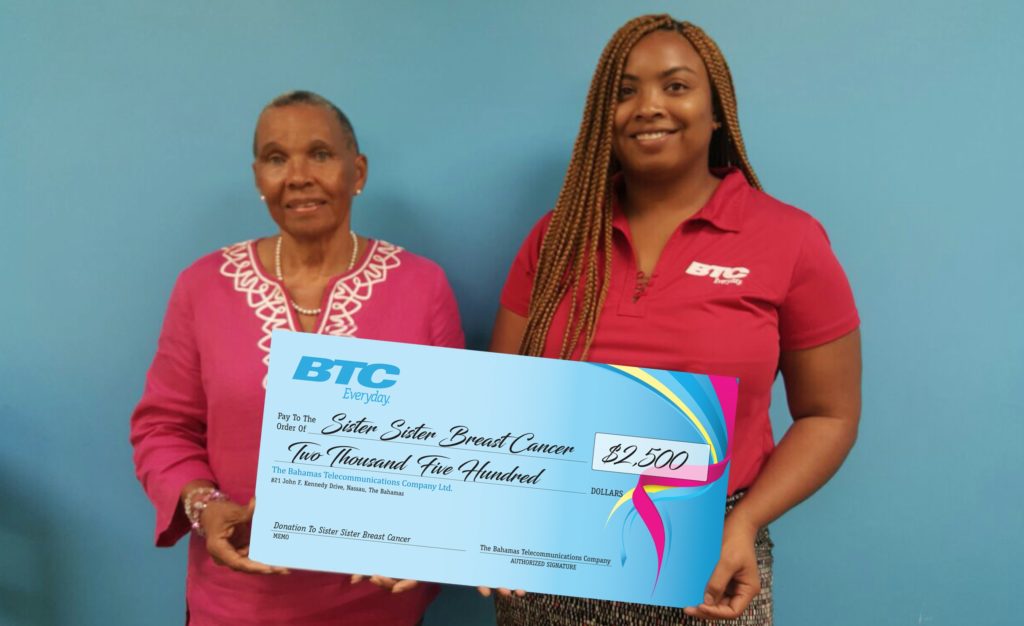 Nassau, The Bahamas. October 31, 2017. The Bahamas Telecommunications Company (BTC) closed breast cancer awareness month with a bang by joining forces with the Sister/Sister Breast Cancer Support Group with a $2,500 donation.
The funds will assist with purchasing portacaths and other medical supplies necessary to help women affected receive the treatment they need. Mrs. Andrea Sweeting from the support group said, "Sister/Sister has had an awesome relationship with BTC. This donation is going to impact someone's life, and help them get to the next level. For that, we are truly grateful."
BTC has hosted quite a few Breast Cancer Awareness initiatives throughout the month of October showing that they are more than just a service provider and truly the nation's premier corporate citizen. Manager for Public Relations, Indira Collie said, "We are indeed grateful and proud to support the Sister/Sister Breast Cancer Support Group for eleven years now. Organizations like this help us to help those in need. We are grateful for the opportunity to continue to partner with them."
BTC also worked along with the Cancer Society for "Think Pink Text for the Cure" campaign which kicked off on October 5th. All proceeds will go to the Cancer Society. Each Friday during the month, employees promoted breast cancer awareness by wearing pink.