BTC helping educate Bahamians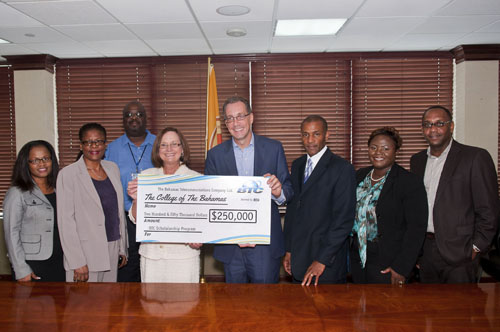 Nassau, Bahamas – The Bahamas Telecommunications Company (BTC) and The College of The Bahamas have signed a Memorandum of Understanding (MOU) which establishes the BTC Scholars Programme through a $250,000 contribution from the telecommunications provider.
Under the agreement, BTC will contribute $50,000 annually to The College for the next five years, funding that will provide scholarships for ten students to attend The College and coming University of The Bahamas. The pact also provides for the company to contribute to the University Endowment, established to raise funding in perpetuity for the institution.
Geoff Houston, BTC CEO, said as a major investor and employer in The Bahamas, BTC considers further investment in the education of Bahamians crucial.
"We recognise that a nation's advancement is through its people.  Education is key and BTC, as a major investor and employer in The Bahamas, recognises that it's within its best interests to support learning institutions.  To be of benefit to the country and its people, commerce needs to thrive and generate jobs and this cannot happen without an educated workforce. We are therefore more than happy to invest in our future and The Bahamas by providing scholarships to academically qualified youngsters without the means to pay for higher education at the college or university of The Bahamas," he noted.
The partnership is an example of the kind of collaboration with the private sector that The College has been aggressively pursuing in order to drive financial sustainability.
President of The College of The Bahamas Dr. Betsy Vogel-Boze commended BTC for its philanthropy and belief in the transformative power of tertiary education and the University of The Bahamas, which will come into force by 2015.
"This allocation is critical, at this point in The College's history, as we endeavor to enhance budgetary efficiencies while engendering financial sustainability. Members of The College community will be able to have projects funded that substantially enhance our end-product in ways that our budgetary constraints cannot ordinarily accommodate. BTC's gift brings The College one step closer to its own financial independence," said Dr. Vogel-Boze.
BTC has a record of philanthropy which impacts community and, on a larger scale, national development. The company's contributions to the BTC Scholars Programme at COB will fund the baccalaureate degree programmes for ten students from both New Providence and the Family Islands, beginning Fall 2013. Under the agreement the company will also contribute $10,000 annually to The University Endowment, established to fund the paramount needs of the institution. This is the kind of public and private sector partnership that will be necessary to extend access to tertiary level education to Bahamians throughout the country.
Students with a demonstrated financial need, who have successfully graduated from public high schools and are enrolled in any undergraduate degree programme at The College are eligible to be considered for the scholarship.