BTC & Communications Solutions team up to recognize Super Value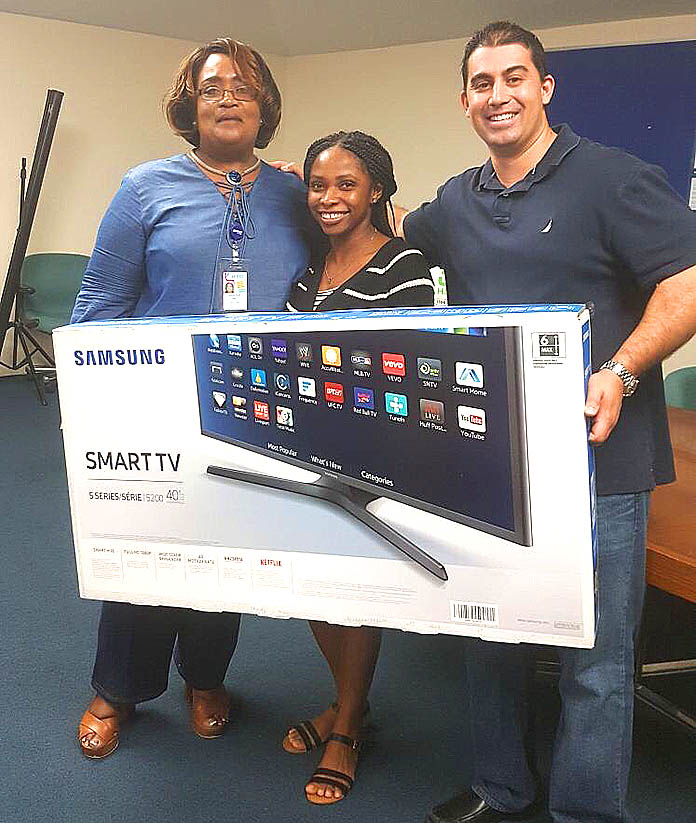 Nassau, The Bahamas. October 10, 2017. Last week, BTC rewarded the top three cashiers from the thirteen Super Value locations in New Providence. The thirty-nine cashiers were rewarded for assisting in bringing in almost $6m in top-up sales. At the end of the event, top cashier, Ms. Marjorie Millian walked away with a high end smart television in addition to a number of other prizes.
Alphanique Duncombe, Vice President for Mobile said, "In the last nine months, customers have topped up almost $6 million dollars at the thirteen Super Value Locations. BTC proudly recognized the invaluable contributions of the cashiers from Super Value. We also provide quarterly incentives, and last week we held our annual awards ceremony to thank them for their support over the year."
Super Value and its master distributor, Communications Solutions have been partners of BTC for six years now. Communications Solutions works along with a number of retailers in the country to provide electronic top-up through BTC. "Electronic top-up provides an added layer of convenience for our customers. Even when grocery shopping, customers can purchase top-up right at the cash register," Duncombe continued.
BTC provided an assortment of prizes including Bahamasair tickets, John Bull gift cards, smart televisions and mobile devices. The cashiers were also treated to a special performance from BTC endorsed athletes Wendi and Dyson. Winning cashier, Ms. Marjorie Millian is team member at the East Street and Windsor Lane Super Value location. This is the second year she has been recognized as the top, top-up cashier.