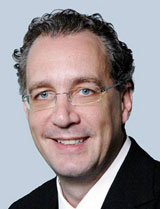 Nassau, Bahamas – One week after a privatized BTC announced it was dropping long-distance connection charges for inter-island calls originating from mobile phones, there was more good news today for cell phone users. Pre-paid consumers will soon be able to top up the minutes on their phones at dozens of new and modernized locations, including at cash registers in grocery stores and fuel stations, and will be able to  add as little as a dollar to their prepaid accounts with a new product — EZTop-Up.
"The introduction of a new system in top-up technology with greater flexibility in amounts from $1 to $99 is another important step in fulfilling our pledge to provide better customer service at lower rates," said Geoff Houston, BTC CEO. "The updating of the current distribution channel and the introduction of the new EZTop-Up system also allows BTC to increase efficiency, create new entrepreneurial opportunities and better serve the southern islands." In addition to increased physical locations, customers will be able to add minutes through EZTop-Up online. Although regular phone cards will still be available at new brightly-coloured booths and kiosks, the company believes the transition to the more efficient top-up method will have wide appeal.
After weeks of testing, the new automated system went live at 12:01 nationwide today in New Providence, Abaco, Andros, Eleuthera, Grand Bahama, Exuma, Bimini and the southern islands.
"Today, for the first time in BTC history, pre-paid mobile customers are able to go into a participating fuel station, give the cashier a $20 bill, ask for $19 in fuel and $1 on their phone or go to the food store and use their change to purchase top up  minutes," said Houston.
It was just over one week ago on July 10 – Independence Day, that BTC revealed its 'One Nation, One Family, One Number' fee reduction for cell phone users, eliminating long distance charges for all calls originating from a cell phone to anywhere within The Bahamas, whether to a fixed line or another mobile phone.
Today's announcement was said to be part of a series of improvements BTC plans to unveil under its new partnership with Cable & Wireless Communications, which purchased a 51% stake in the company in April of this year.