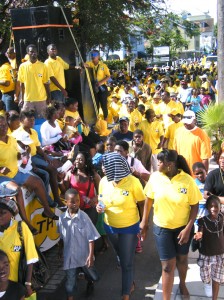 Published by the Nassau Guardian 7/25/2011
The Progressive Liberal Party (PLP) yesterday accused Prime Minister Hubert Ingraham of making "quick, but rash and ill-considered decisions that regretfully harm Bahamians each day."
"Hubert Ingraham and the FNM are paralyzed on things that matter to Bahamians, especially on the issue that is most important to Bahamians — crime," said the PLP in a statement.
The statement was a direct response to one issued on Sunday by the FNM, accusing PLP Leader Perry Christie of being a weak and ineffective leader.
Up to yesterday, 79 murders had been recorded in The Bahamas for the year.
"Bahamians hold Hubert Ingraham responsible for crime and the fear of crime," the PLP said.
"He decided to gut urban renewal for political reasons, even after it won awards and international recognition.
"He decided to end school policing.  He decided to end swift justice.  He decided to end the witness protection program.  These bad decisions are likely to result in another year with a record murder rate."
The PLP also accused Ingraham and the FNM of taking care of special interests, saying far too many decisions made by the current administration have hurt Bahamians.
"The FNM decided to raise taxes during a recession when other countries were reducing taxes to help citizens through hard times; decided not to consult with local residents and businesses before digging up roads; decided to implement a new investment policy that has closed Bahamian businesses, will continue to close Bahamian businesses and hurts Bahamians and favors outsiders by allowing foreign ownership of restaurants, night clubs and other forms of entertainment; and decided to sell 51 percent of the Bahamas Telecommunications Company to foreigners," the PLP said.
"They are so busy lining the pockets and fattening the wallets of special interests that they continue to fail in their fundamental duty and responsibility to keep the lights on."
The PLP said its hard work for Bahamians during 2002 to 2007 has also been praised by Bahamians, Standard and Poors as well as the International Monetary Fund.
"During the years 2002 to 2007, the Perry Christie-led PLP did not impose one new tax on Bahamians; unemployment was at an 'irreducible minimum' (as stated by the IMF); people could get two or three jobs if they wanted; Bahamian road builders were building roads (not foreigners); Bahamian businesses were flourishing and the economy was in such good shape that Hubert Ingraham gave Perry Christie credit in his 2007 budget address to Parliament."
The statement added:  "The PLP has always and will always put Bahamians first.  It is a party of new and innovative ideas for the future.
"Even though the FNM will again leave the economy in shambles, as the new government, the PLP will hit the ground running to serve Bahamians with its new generation of candidates to restore safety in our homes and on the streets and to restore economic security."